Firestone Walker Oaktoberfest 2012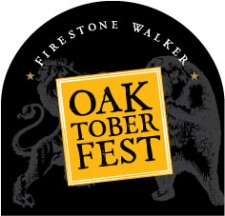 Get Stoked On Oak At The Firestone Walker "Oaktoberfest" On October 6
Avila Beach, CA – Fill your stein, flaunt your lederhosen and get stoked on oak at the eighth annual Firestone Walker Oaktoberfest at Avila Beach Golf Resort on California's Central Coast on Saturday, October 6. A portion of the event proceeds will benefit Woods Humane Society.
Oaktoberfest is Firestone Walker Brewing Company's oak-inspired twist on Germany's famous Oktoberfest tradition, featuring live music, a Beer Olympics competition, German-style fare, a "best Bavarian attire" contest and several beer gardens, as well as a ceremonial tapping of a 60-gallon oak barrel filled with Firestone Walker's seasonal Oaktoberfest beer.
"This event is a mash-up of Bavarian style and California flavor, and it's also a nod to our longtime devotion to brewing with oak barrels," said Jamie Smith, vice president of marketing at Firestone Walker Brewing Company. "It's all about having fun, embracing the season and supporting a good cause."
Attendees are encouraged to attend the event in lederhosen or dirndl, and prizes will be awarded to the best dressed guy and gal. Live music will be provided by The Jammies, followed by '80s cover tunes by Fast Times. The event's Beer Olympics will include barrel rolling, stein racing and other feats of agility strength.
Guests will also savor Firestone Walker's fall seasonal Oaktoberfest beer starting with the ceremonial barrel tapping at noon. Oaktoberfest is a true German Märzen bier brewed with premium imported Pilsner and Vienna malts; spiced with Bavarian hops from the motherland; and fermented with Bavarian Augustiner Lager yeast from Munich.
The Firestone Walker Oaktoberfest runs from 11 a.m. to 4 p.m. Tickets are $25 when purchased in advance and $30 at the door. Advance purchase is recommended, as the event may sell out early. Tickets include admission to the event, a commemorative half-liter beer stein, and one beer. Food and additional beer will be available for purchase. Attendees must be 21 or older.
Tickets are available online at www.Oaktoberfest.com. They can also be purchased at Firestone Walker Brewing Company's visitor center in Paso Robles, the California Mid-State Fairgrounds in Paso Robles, Boo Boo Records in San Luis Obispo, and at all Vallitix ticket locations.