Blue Palms Brewhouse Turns 4 This Sunday (Tap Lineup Listed)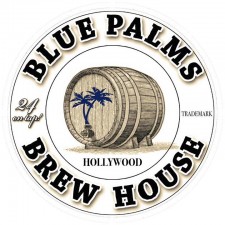 The season for summer beer gardens may be winding down,but it seems that it's anniversary season here in southern California. We'll be celebrating our 5th Anniversary with some very special beers tomorrow night at Naja's Place in Redondo Beach, but the celebratory fun doesn't stop there. Our pals over at Blue Palms Brewhouse will be turning 4 this weekend and have a great event lined up on Sunday, 8/12 from 12-8pm.
Owner Brian Lenzo sent over a preliminary list of beers to expect at the event, with extra special surprises that will pop up throughout the day. Tickets are $45 for 12 five-ounce tasters tickets. The anniversary celebration will expand from the bar to the adjacent parking lot next to the Fonda Theatre. Admission includes a plate of snack food TBA (last year's event we saw them roast two whole cow legs, and with Lenzo you never know what to expect).
Here is a taste of what to expect at the Blue Palms 4th Anniversary:
Stone Pouring Station
1. Stone 09-09-09
2. Eagle Rock Equinox
3. Stone Barrel Aged IRS
4. Avery Liliko'i Kepolo
5. Avery Sam Oak
6. Lost Abbey Red Poppy
7. Lost Abbey Bourbon Barrel Angel Share
8. Coronado DIPA Sock Knocker
Bruery Row
1. 4 Calling Birds
2. Cuir
3. White Oak
4. Tart of Darkness'
5. Oude Tart
6. Drakes Strong aLe,Belgian, Blonde Blend,Brandy Barrels
7. Drakes Stygain Witches Barleywine 2010 10.5%
8. Oskar Blues 10 Fidy Barrel Aged ~ NITRO
Firestone Pouring Trailer
1. Firestone Walker Parabola
2. Firestone Pivo Pils
3. Firestone Union Jack
4. Ballast Point Dorado DIPA
5. Big Sky Ivan the Terrible
6. Alpine Firing Squad Quad
"Jockey Box Alley"
1. Ballast Point Sour Wench
2. LadyFace Guillotine, Justin Cab. Sour
3-8 TBA
9. Lips of Faith / Lost Abbey Brett Beer
10. Beachwood TBA
11. Monkey Paw Go Bananas GOSE
Cask: Monkey Paw Buffalo Trace Oaked Imperial Choco Porter
Inside Bar
1. Trumer Pilsner
2. Russian River Sanctificaton
3. Sierra Nevada Summer Saison
4. Russian River Redemption '11
5. Karl Strauss Anniversary 22
6. New Belgium Tart Lychee
7. Sierra Nevada "THE DUDE"
8.Speakeasy Massacre
9. Pizza Port Capt. Farrell's Revenge Irish Red
10. Golden Road Buffalo Trace Barrel Aged Brown
11. Kern River TBA
12. Sierra Nevada Kolch
13. Russian River Pliny the Elder
14. Russian River Blind Pig
15. LadyFace Blue-Belly Markers Mark Barrel Aged Barley Wine
16. Beachwood BBQ Thrillseeker IPA
17. Rodenback Grand Cru
18. 21st Amendment Watermelon Wheat
19. Drei Fontaine Porter Zwet.be
20. Green Flash Park West Porter
21.Pizza Port El Camino IPA
22. Ballast Point Barrel Aged Sea Monster NITRO
23. Pizza Port OB Chronic
24. Gentleman Scholar #1 ( Martin Svab )
CASK: Oaked Sculpin
According to Facebook, there has been mention of special appearances by the following beers with times staggered throughout the day, so keep your eyes peeled for these: Dogfish Head 120, Southern Tier Creme Brulee, Stone 16th Anniversary IPA, Russian River Supplication, and a special sour from Firestone Walker.
Blue Palms Brewhouse is located at 6124 Hollywood Blvd., Hollywood, CA. | bluepalmsbrewhouse.com