Danny Fullpint's Favorite Beers of 2013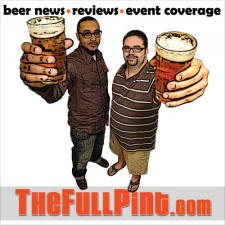 We are less than two weeks away from our flagship poll, The Best Craft Beer of 2013. While that will be determined by you, the readers, I'd like to recap a few of my favorite standout beers of 2013. The only criteria that I'm following is that the beer debuted outside of the brewery/tap room and into bottle or wide draft distribution.  For those reading thinking I missed a few stellar beers, you are right I did. No hard feelings ok?
Prairie Bomb by Prairie Artisan Ales – Not only is Prairie Bomb a contender for Best Beer of 2013, but they are probably Rookie of the Year for all intents and purposes. As you know, there is a big influx of new breweries, Prairie caught my attention last spring with a few of their farmhouse style ales. All of a sudden, the trade block blew up for Bomb!, and I immediately tracked it down to try.  If you like beers like Hunahpu, Speedway Stout or Abraxas, you will love this beer. It's chocolatey with the right kind of pepper kick to it. Not burning, but you know it's there. For how strong it is, you'd have no idea, as it's masterfully balanced and delicious.
The Pupil by Societe Brewing – One might argue that San Diego is over-saturated with breweries, over-saturated with hoppy ales, and over-saturated with startup breweries. Well, Societe Brewing crushed all those notions this year with a wide variety of San Diego style beers, and the one that really stood out for me was The Pupil. It's a delicious Nelson IPA that rivals some of the best IPAs in the country.
New Glarus Strawberry Rhubarb Ale – There are a few things we know for certain. The earth is round and New Glarus makes incredible Fruit beers.  Much like Serendipity, Raspberry Tart and Wisconsin Red, Strawberry Rhubarb was a perfect fruit beer, not coming off as overly sweet or artificial.
Golden Road Heal The Bay IPA – It's a story I told earlier this year, Golden Road got a new kick ass brewer and started kicking ass with their beer recipes and execution.  I fell in love with this beer at first sip, got skeptical folks in love with it, and even got some non-IPA drinking friends in love with it.
The Bruery Saison Tonnellerie – Buried underneath The Bruery's adjuncted strong ales and sour ales was a remarkable beer named Saison Tonnellerie.  This beer was part of The Bruery's Preservation Series, and sadly didn't get as much fanfare as it should have. It's super drinkable, rustic, a little tart and funky, and ranks very high on my saison list, next to Saison du Pont and Saison du BUFF. Points were awarded for not being too high in alcohol either.I hope this returns every year.
Firestone Walker Pivo Pils – While Velvet Merlin was nominated for Best Craft Beer of 2013, Pivo Pils for me, was the best thing to come out of Firestone Walker this year. For years, myself, along with others have had biased opinions towards American made pilsners. They are usually watered down swill, or worse yet, corny, rubberbandy, sulfery messes.  The maser of hops, Matt Brynildson took some influences from Europe, brought them back to Paso Robles  and made a perfect lager. Thirst quenching, hoppy, nice tart lip smacking pop on the finish makes you want a few olympic sized swimming pools filled with this. Next time I hear someone complain about Fizzy Yellow Stuff, I'm gonna smack them. Smack with with a growler of Pivo Hoppy Pils that is.
Aleman/Two Brothers/Stone Dayman IPA – I love coffee, I love IPA, I love Stone, but do I necessarily think all three can co-exist in my heart and mouth at the same time. I didn't think so and I was happily wrong. It was a nice dry crisp IPA with fresh tasting cold steeped coffee. I hope Stone makes this beer again.
Jester King Atrial Rubicite – No offense to all the American breweries attempting to make sour ale, but I've found them to be big hits or big misses, with little in between. Jester King knocked my socks off with a sour raspberry ale called Atrial Rubicite, which had everything I wanted to a sour fruit ale and none of the things I dislike about ones that don't turn out so good.  I'm wishing for their continued success on the sour front.
I was also bold enough to make our first ever Editor's Choice, for 2013. Noble Ale Works Naughty Sauce. Read on …. https://thefullpint.com/dans-blog/craft-beer-2013-noble-ale-works-naughty-sauce/