West Sixth Brewing Oktoberfest This Saturday
(Lexington, KY) – West Sixth Brewing will be returning to Coolavin park (right next door!) and celebrating in the taproom – live music, food trucks, kids activities, litre steins and more! 6% of ALL proceeds from the day, both outside & inside, will go to our friends at FoodChain! Cheers to our friends at Big Ass Fans for matching our contribution.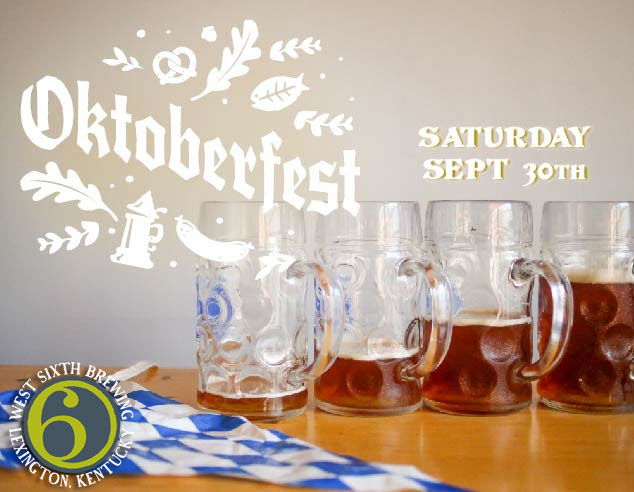 We kick-off at 1PM in the park with FREE bouncy houses for kids, draft beer, steins and more. Make sure you check out the live-carving of two giant pumpkins right by the brewery!
At 3PM, the music starts, and at 4PM the food trucks will be rolling. Glass steins all day at the taproom, and a 100 ft tented beer garden in the park to hang out and enjoy the festivities, music, and fall weather!
Check out the Facebook event (be sure and RSVP and invite your friends!) for more details, or visit our website at www.westsixth.com/oktoberfest-2017
Our friends at FoodChain will be hosting kids programming, helping us clean-up all day, and managing a "stein-parking" station to check your glass stein before you walk to the park (we can't have glass!) – they are about to launch an awesome new community kitchen in the building – so know that Saturday's event is going to a great cause!
The weathers supposed to be amazing — hope we see you there!
Ben, Brady, Joe, Robin, Matt, Hendrick, Kelly, Jesse, Dale, Shane, Andy, Liz, Riah, Conor, Clarke, Eryn, Steven, Jacob, Matt Witt, Delia, Sarah, Jay, Greg, Jared, Kaitlyn, Raya, Chris, Nick, Demarco, Olivia, Tim, Emma, Birch, Matt M, Dustin, Arielle, Katarina, & Jackie (Your friends from West Sixth)
www.westsixth.com – @WestSixth – facebook