Reviewed: Bell's Pooltime Ale
Product description: Pooltime Ale is a refreshing Belgian-inspired Wheat Ale with light clove notes. The truly distinguishing feature is the use of 100% Montmorency tart cherries grown in the Traverse City region of Michigan. These cherries add a subtle tartness and bright counterpoint to the other flavors, enhancing Pooltime's fruity character and making it the perfect beer for all summer activities. 5.2% ABV.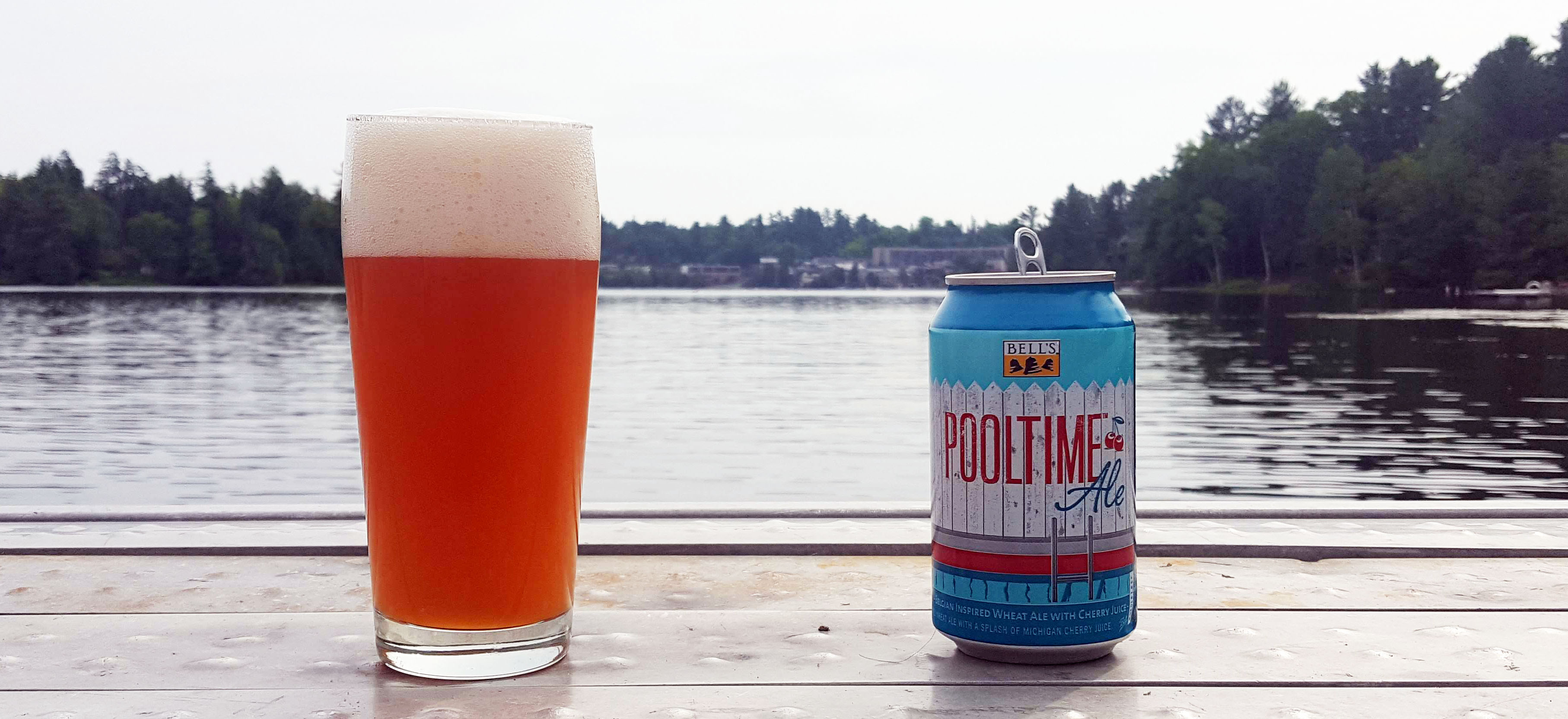 Bell's Brewery – Bell's Pooltime Ale – 12oz can served in Becher glass – 5.2% ABV
Without much forethought and zero prior research, I hastily grabbed a 6-pack of this beer from the refrigerated section of a local grocery store while traveling in upstate New York. This sports Bell's relatively new paper carton of x6 12oz cans that have become more common on today's shelves thanks to the likes of Stone, Sierra Nevada, and Firestone Walker. With its summer poolside graphics and cherry icon, I'm thinking Bell's Pooltime competes with Victory Kirsch Gose. I was hoping for a bright, quenching summer beer that you can enjoy in the sun by the pool. Plus, the official description has the word "tart" mentioned twice.
Though I would normally drink something like this straight from the can, for scientific purposes this beer first went into a becher glass. Pooltime is much murkier than expected with a fully hazy, burnt orange to deeper red color that looks almost like a Bloody Mary. Large, lightly pink foam erupts and sticks around for several minutes.
The aroma is sweeter than expected with an artificial strawberry character and not much else. Dig in and this beer doubles down on sugar with kids' cherry juice box flavors and overall sweetness skyrocketing to an 8/10. The tart cherry character I was waiting for is nonexistent. Overall acidity is easily at 0/10. In addition, the mouthfeel is ultra-thick and soupy with wheat proteins at the maximum. To me, it tastes like Oberon with added sweet cherry juice pushing it off balance. Pooltime Ale is murky, sticky, and anything but refreshing.
It's too bad because Bell's chose not to capitalize on its outstanding Berliner Weisse, Oarsman, and just make a cherry version of it. (It has existed on tap in the past, but never made it to larger production.) Instead, here's a whole new beer from the ground up that takes something closer to Oberon and doubles down on the sugar with sweet, melted cherry popsicle on top. Several other beers in the Bell's lineup are superior for poolside day drinking: Oarsman, Quinannan Falls, Lager of the Lakes, and even regular Oberon.
*         *        *
The Full Pint is a fully independent website dedicated to bringing you the highest quality reviews of today's craft beer. Our team has no financial conflicts of interest with the beer industry in order to give you the least biased information out there in today's craft beer world. Please use the comment section below for general comments about this beer and/or our review. If you would like to see a specific beer reviewed or have general comments on reviews, please email info(at)thefullpint.com. For more information on how we review beer read here.