Victory Brewing Announces Kirsch Gose
(Downingtown, PA) – Victory Brewing Company (Victory) announces Kirsch Gose, its first endeavor incorporating natural fruit juices, which add subtle flavors over a unique tart and salty finish. Gose is a German-style brew that takes its name from the salinic river Gose. Promising to excite with the sharpness and sweetness of fresh cherries, Victory puts a modern twist on an old-world, time-honored process to bring a distinct and refreshing session ale to market.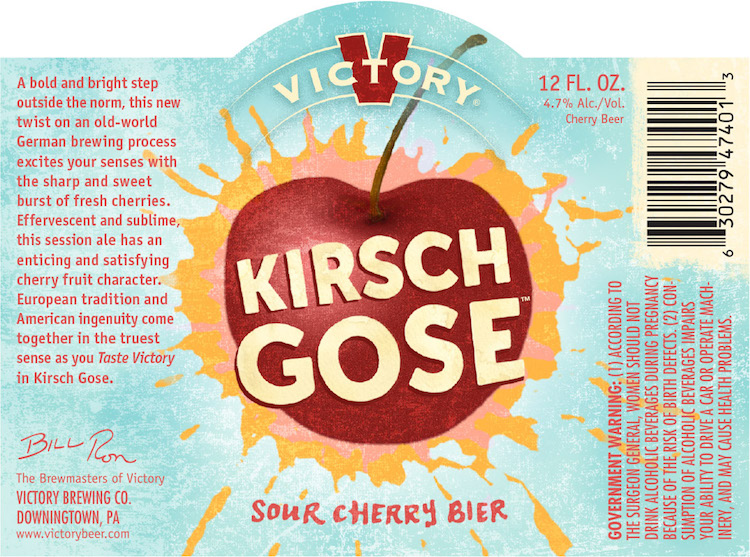 Kirsch Gose was borne out of the passionate artistry of Victory Brewing Company's brewers and blends a variety of wheat malts, Czech-grown Saaz hops and cherry juice to create a distinctly bracing, light-bodied pleasantly sharp beer with a nod to European tradition while featuring American ingenuity. With an ABV of 4.7% and exciting flavor profile, Kirsch Gose invites fans to 'Taste Victory.'
Available throughout Victory's 35 state distribution footprint, Kirsch Gose's suggested retail price for a 12 oz. four-pack is approximately $9.99, but varies upon location. Use Victory's Beerfinder to discover a nearby location, or download the free Victory Mobile app for Android or iPhone.
Goses, which are traditionally brewed to be slightly tangy and salty, have a longstanding German history since the 16th century. They are brewed using both malted barley and wheat to provide a bit of sharpness and a smooth mouthfeel. After the brewhouse additions of spices such as coriander, the style is then fermented with wild, top-fermenting yeast to produce a dry, bubbly, puckery product. Interestingly, because brewing goses required more wheat than the standard lager beers then in vogue, they fell out of production as post-World War East Germany (where it was primarily brewed) needing to ration their supply for bread making as opposed to beer making.  The demolition of the Berlin Wall, in combination with the booming North American craft beer movement in the late 80's, encouraged the gose resurgence in Germany with local Leipzig brewers and provided a canvas of endless creative possibility for North American craft brewers.
"At Victory, we rely on our German training to keep the best brewing traditions alive, while incorporating inspiration from the wide world of flavor possibilities, " said Victory's President and Brewmaster, Bill Covaleski. "Kirsch Gose is a slightly different, definitely delicious sensation that we hope our fans enjoy as much as we enjoyed creating it."
About Victory Brewing Company
Victory Brewing Company is a craft brewery headquartered in Downingtown, Pennsylvania. Founded by childhood friends, Bill Covaleski and Ron Barchet, Victory officially opened its doors in February of 1996. In addition to the original Downingtown brewery and brewpub, Victory recently opened a second state-of-the-art brewery in Parkesburg, PA to expand production capabilities and serve fans of fully flavored beers in 35 states with innovative beers melding European ingredients and technology with American creativity. To learn more about Victory Brewing Company visit us on the web at www.victorybeer.com.