FCB Major Tom's Pomegranate Wheat and Hoptitude Imperial IPA Returns Friday
(Fort Collins, CO) – FCB (Fort Collins Brewery) is excited to release its summer seasonals, Major Tom's Pomegranate Wheat and Hoptitude Imperial India Pale Ale on Friday.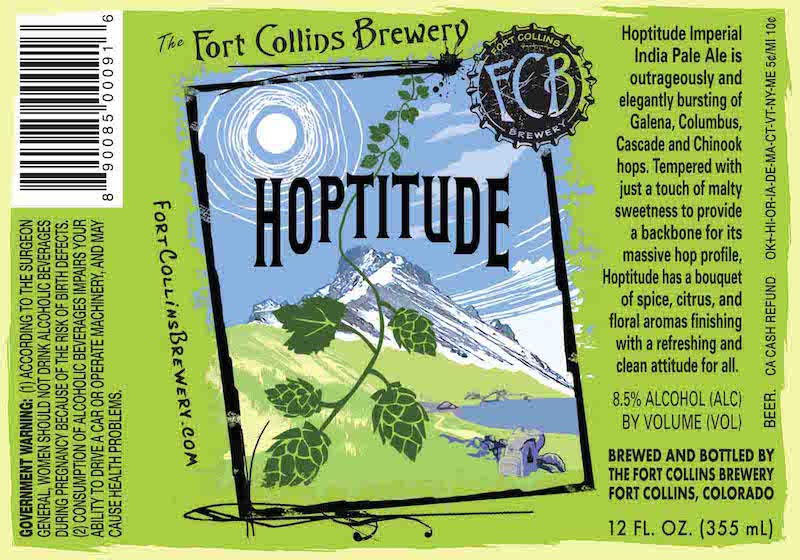 In FCB's year of rebranding, both brews saw recipe adjustments. Major Tom's Pomegranate Wheat (previously named Major Tom's American Wheat) saw an increase in pomegranate and an addition of pink peppercorn, redefining itself as a fruit beer. Hoptitude gained 30 IBU's and changed from an Imperial Extra Pale Ale to an elegantly bursting, hop forward Imperial IPA.
As the days get longer and planes fly higher, Major Tom's Pomegranate Wheat is as refreshing as a summer vacation. This 6-pack seasonals unique creation of a fruit beer is infused with pomegranate and pink peppercorn. The result is a striking straw blonde color and sweet tart finish.
ABV: 5.1% SRM: 5 IBU: 34
Hoptitude Imperial IPA is outrageously and elegantly bursting of Galena, Columbus, Cascade and Chinook hops. Tempered with just a touch of malty sweetness to provide a backbone for its massive hop profile, this 4-pack seasonal has a bouquet of spice, citrus, and floral aromas finishing with a refreshing and clean attitude for all.
ABV: 8.5% SRM: 12 IBU: 95
Major Tom's and Hoptitude will be available to FCB's distribution footprint throughout the summer season in bottles and on draft.
Fort Collins Brewery & Tavern is a family-owned, handcrafted microbrewery and full service tavern in Northern Colorado, established in 2003. FCB offers an outstanding line up of 50 ales and lagers that can be found on tap as well as in bottles throughout the U.S. For more information, visit fortcollinsbrewery.com or call 970-472-1499. Brewery tours run daily!
Create – Share – Savor