Reviewed: Modern Times Foeder Ice Dry-Hopped with Saphir
Official description: Our year-round pilsner spent two glorious months in our heavy-toast oak foeders before a generous dry-hopping with this magical German hop variety. The resulting beverage is a deliciously complex, 4.8% bundle of citrusy joy wrapped in a delicate oaky blanket.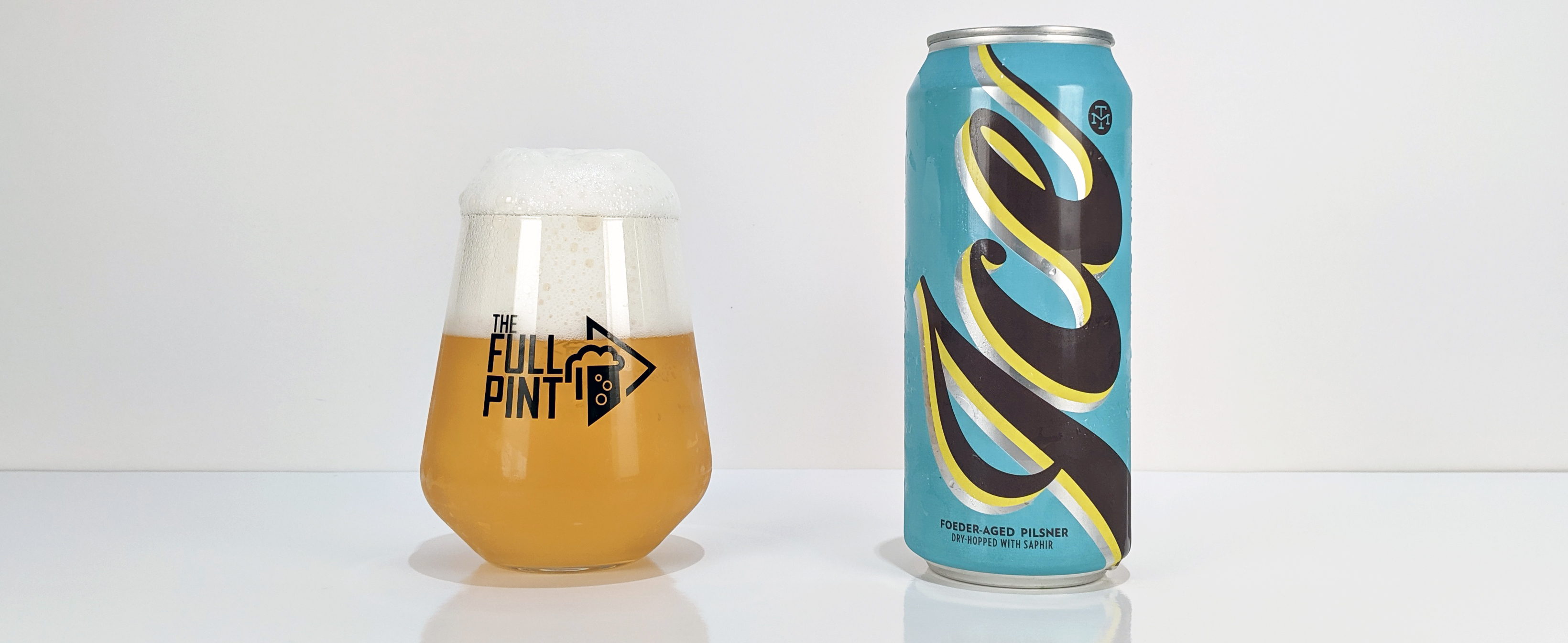 Modern Times Beer – Modern Times Foeder Ice Dry-Hopped with Saphir – 16oz can served in Rastal Harmony glass – 4.8% ABV
Background
Modern Times (San Diego, CA) seems to release a dozen new beers each month. It's a dizzying whirlwind of fruited sours, hazy double IPAs, and barrel-aged pastry stouts. However, many of these new releases seem to be iterations of the same base beer over and over. But one base beer that seems to get relatively little attention is their Ice pilsner, which I reviewed two years ago. Since that review, Ice has become a year-round beer for Modern Times. It is one of the most consistently good pilsners available in our local market today.
Back in April of this year, I spotted foeder barrel-aged Ice on tap at their tasting room in Encinitas, CA. Barrel-aged pilsner didn't sound like an appetizing combination at first. However, this special edition (also with Saphir hops) was stunningly good. I even entertained the idea of writing an in-depth review from a crowler I took home. Last month, I tried a Triskel dry-hopped version of Foeder Ice, which was solid but didn't quite capture the magic of the Saphir. There's also a Saaz version that I can't wait to try.
Fast forward to today and that tap-only release is now available in cans! However, they are not distributed to my knowledge and must be purchased at one of the (now) several Modern Times locations.
Review
I purchased this beer directly through Modern Times for $15 a 4-pack of 16oz cans – a bit pricey but well worth it as we shall see. On the bottom of the can is an easy-to-read packaging date of 9/26/19 placing this beer at about 3 weeks old. However, I'm reviewing this beer the day it was released to the public, so it can't get any fresher than this.
Poured into my glass, Foeder Ice is slightly hazy straw in color with buttermilk-colored foam that rises up over the edges easily like a volcanic eruption. (Tap pours were less turbid.) Head retention is impressive as large bubbles slowly collapse like looking inside a loaf of sourdough as it bakes but in reverse. The aroma on this beer is just mesmerizing. Delicate, zesty citrus kicks it off reminiscent of blood orange and lime peel. This segues to malty aromas of pancake batter, fluffy buttermilk biscuit, and fresh out of the oven baguette. Atop all of that is a curveball from the heavy-toast oak foeders (think colossal barrels), which bring out bourbon-like spicy oak, black pepper, and vanilla.
Digging in, Foeder Ice is simply a magical experience. The mouthfeel is soft and buoyant with a quenching water profile that is somewhat salty with a minerally bite. The malt character is exquisite with more of that buttermilk biscuit piling on. The perceived fattiness from the malt is bolstered by the wood to give the beer a rich, coating effect on the palate. It seems to glide around and evaporate, demanding one sip after another. A touch of savoriness from the wood aging gives it a unique flavor combination few beers can match.
Perceived Specs for Modern Times Foeder Ice Dry-Hopped with Saphir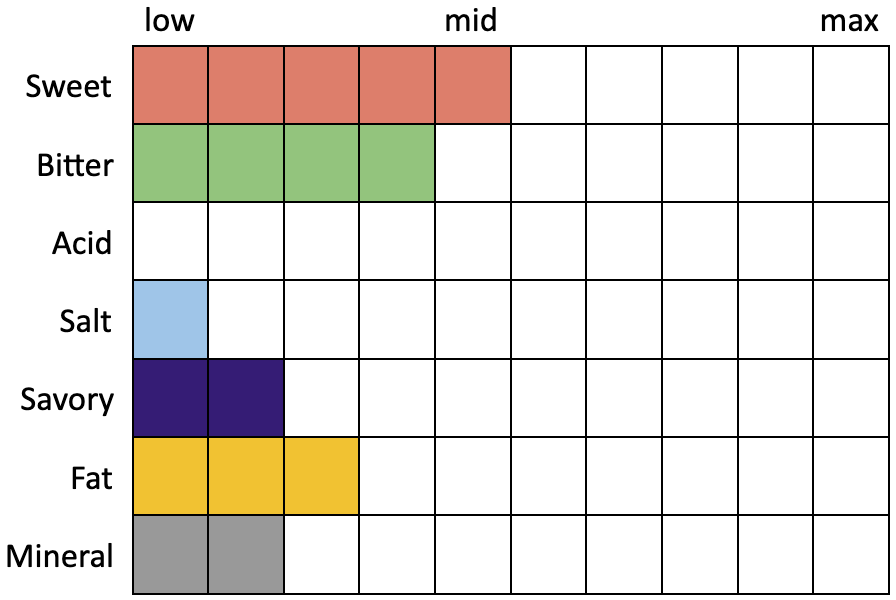 Conclusion
With such a delicate base beer, the foeder-aging and Saphir dry-hopping fundamentally transform Modern Times Ice from a decent pilsner to an ethereal masterpiece. So many disparate flavors converge into this dynamo of a sub-5% lager. Modern Times always wows me with their coffee stouts, but this pale lager may be my favorite beer from them yet!
Similar Beers
Barrel-aged pale lagers are exceptionally rare to almost non-existent. I know Budweiser came out with a Jim Beam barrel-aged copper lager that I'd love to track down for a side-by-side. But seriously, the last lager I had with this unique mix of flavors was Aecht Schlenkerla Helles Märzen Kräusen Blend, an unusual Franconian lager but not a pilsner.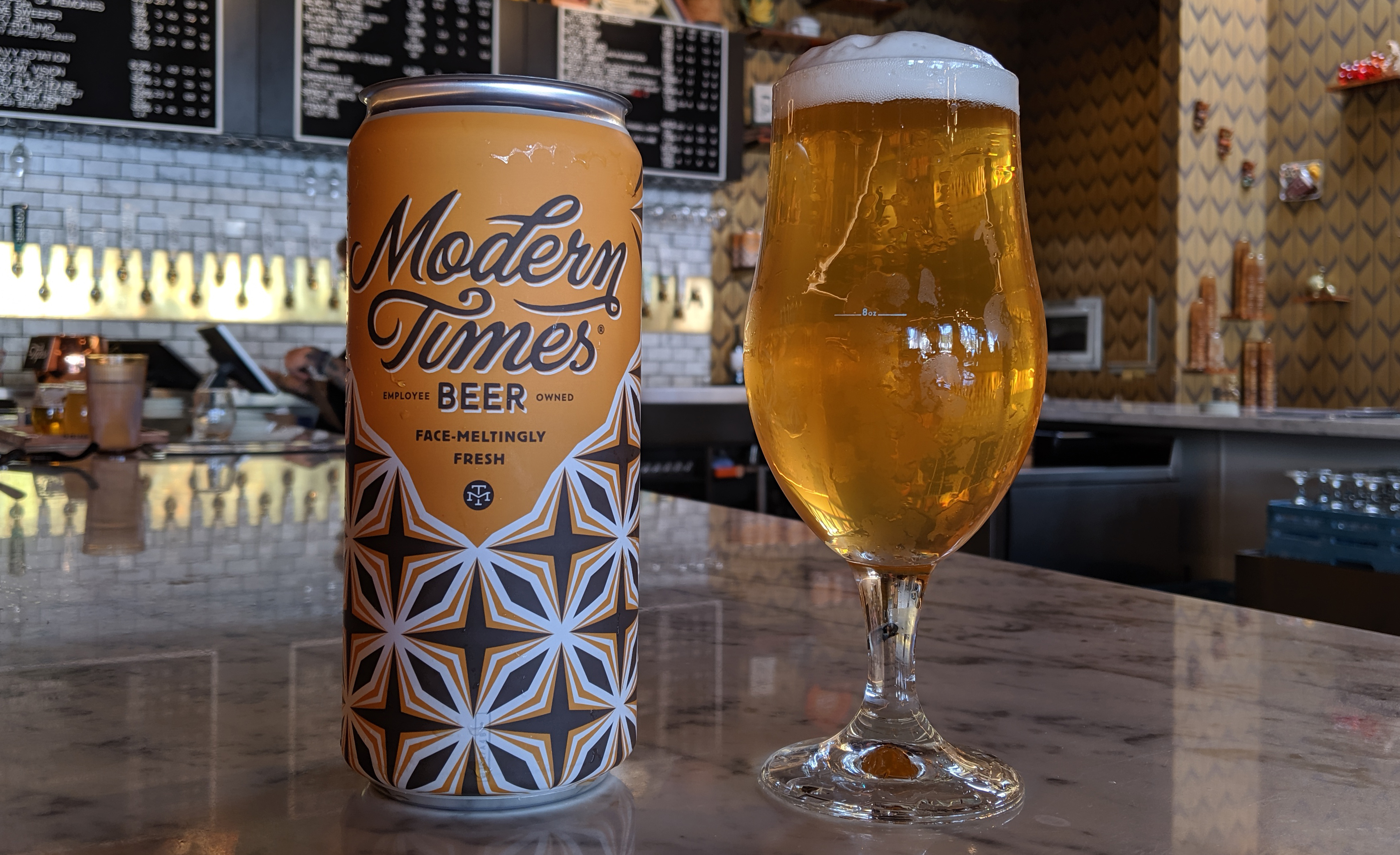 Modern Times Foeder Ice on tap at The Far West Lounge, Encinitas, CA. Photo: GT Wharton
*         *       *
The Full Pint is a fully independent website dedicated to bringing you the highest quality reviews of today's craft beer. Our team has no financial conflicts of interest with the beer industry in order to give you the least biased information out there in today's craft beer world. Please use the comment section below for general comments about this beer and/or our review. If you would like to see a specific beer reviewed or have general comments on reviews, please email info(at)thefullpint.com. For more information on how we review beer read here.