O'Briens Pub – AleSmith, Victory and Beer Cheese!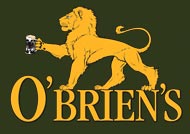 Hello Good Beer Fans!
There has been a lot media attention on O'Brien's this week. Draft magazine recently ranked us as the best beer bar in San Diego (i guess they finally caught on to what we have been saying about O'Brien's since 2007) and several local TV stations have picked up the story – you might have seen our taps, or even one of our bartenders on Channel 5, 6 or 7 in the last week. Other local pubs that were honored include: Hamilton's, Ritual Tavern and the Neighborhood.
It is always nice to be recognized with an award. But really, it is all about the beer. We are not showy, we are not fancy and we don't want to be. We serve good and we intend to keep serving the best beer we can to you, our wonderful customers. I think these awards are also an excellent reflection of our staff. Without them, we would not win these accolades. Good beer in an unpleasant environment, is still unpleasant.
So a very heartfelt thanks to our bartenders: Micaela, Michele, Coral, Kat and Tiff and to our kitchen staff that cranks out all of that wonderful food: Humberto, Cesar, Jose, Said and Luis.
There has been a lot of turnover on the taps this week and we are fully geared up for our AleSmith night tomorrow. On tap right now we have fresh kegs of Sierra Nevada Bigfoot (which means we have the Big P – 1/2 Pale and 1/2 Bigfoot), Alaskan Smoked Porter, Stone Double Bastard, Alpine Pure Hoppines and AleSmith My Bloody Valentine. We also have plenty of new bottles on our list including New Belgium Dark Kriek – a cherry beer from the very limited Lips of Faith program, Russian River Consecration, De Dolle Still Nacht, Lindeman's Cuvee Rene, Boulevard Quadruple, Hair of the Dog Fred and 3 liter bottles of Russian River Damnation. The very popular Dansk Viking Blod mead is back in stock as well.
Tonight, , Friday the 13th is our AleSmith Draft night with 6 beers on tap – My Bloody Valentine, Nautical Nut Brown, Horny Devil, IPA, Speedway Stout and Winter YuleSmith! The guys from AleSmith will be stopping by throughout the evening as well. It will be a great night of local beer and a great way to spend Friday the 13th! Over the weekend we will be open normal hours, even on President's Day. Saturday the 14th is likely to be a little slow due to Valentine's day, so if you want to come by when the pub is not crowded, stop by Saturday night and hang out with Micaela.
Sunday we will be open from Noon to 6 pm and Monday the 15th we will be open from 11 am to 10:30 pm. We will have our regular pitcher specials on Monday night and Fish and Chips and Fish Tacos both Sunday and Monday. Lindsey now has her delicious beer cheese available To-Go. She is selling packed 8 ounce tubs and there is a board posted right by the draft list with what flavors are available. I know we have some of her 5 Cheese Italian Blend with Affligem Blond and Guinness and Cheddar and just created last night – the Alaskan Smoked Porter with Bacon and Green Onion. The bacon beer meets bacon beer cheese.
Look for some great specialty burgers as well on the specials board with the beer cheese such as the Italian Burger on grilled sourdough with spinach and proscuito. Next week we will have a keg of Ballast Point's delicious Victory at Sea on tap Wednesday night at 5:30 pm. Thursday the 19th we have a double whammy of Alpine casks – Duet and Boris Imperial Stout. The stout is just a 5 gallon cask, but the beer is over 10%, so it should be around for a while.
Friday the 20th we will feature some beers from Full Sail Brewing Company. Looking further ahead, we will host a Palm Brewing night on the 27th with several Belgian beers on tap. I am planning another Russian River night with not quite as many beers, and hopefully not quite as many people. More the beers will be in full kegs this time instead of 5 gallon kegs. And Lindsey's birthday is coming up on March 6th and what she wanted for her birthday was a keg of Pliny the Younger. So our next keg of the Younger will be on tap at 11 am on Friday, March 6th. Yep, lunchtime Younger. It is evil, but that is just the way life is sometimes. That is your good beer news for now. We'll see you soon for a great AleSmith beer!
Cheers,
Tom Nickel
O'Brien's Pub
20 Taps – Tons of Hops
4646 Convoy Street
www.obrienspub.net