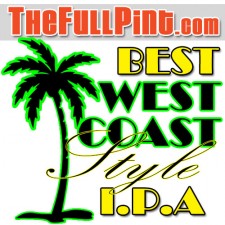 Near and dear to our beer drinking hearts is the West Coast Style IPA. While not an officially recognized style by beer judges, this particular style of IPA has captivated the country.  Known for it's abundance of bitterness and over the top American hop aroma, this is a style we see being adopted out outside of it's birthplace on the left coast.  Please scroll through the list and pick one that you feel is the Best West Coast Style IPA.  If you have one in mind that is not on this list, you can write it in on the comment section below. Below are some guidelines for this poll. Poll ends July 25th at 5PM West Coast Time.
Poll Guidelines
One vote per person. No cheating!

A complaint doesn't equal a write in.

Cheering on is encouraged, but not counted as a write-in vote.

Rally the troops via Facebook, Twitter and Reddit.

You can write in a vote in the comment section below. If a write-in vote gains traction, we will talley the vote and add it to the main list.

If you need any help, please write to us via our contact form.
Follow The Full Pint on Facebook  Instagram  Twitter
Best West Coast IPA
Firestone Walker Union Jack (15%, 406 Votes)
Ballast Point Sculpin IPA (14%, 378 Votes)
Fat Head Head Hunter IPA (12%, 320 Votes)
Russian River Blind Pig IPA (7%, 190 Votes)
Alpine Beer Co. Nelson IPA (6%, 171 Votes)
Stone Ruination IPA (6%, 164 Votes)
Green Flash West Coast IPA (6%, 162 Votes)
Bear Republic Racer 5 IPA (4%, 105 Votes)
Drake's Aroma Coma (3%, 72 Votes)
Societe The Pupil IPA (2%, 65 Votes)
Lagunitas IPA (2%, 56 Votes)
Kern River Just Outstanding IPA (2%, 51 Votes)
Port Brewing Wipeout IPA (2%, 50 Votes)
AleSmith IPA (2%, 49 Votes)
Beachwood Brewing Amalgamator IPA (2%, 45 Votes)
Speakeasy Big Daddy IPA (2%, 45 Votes)
Oskar Blues Deviant Dales IPA (2%, 44 Votes)
Eagle Rock Populist IPA (2%, 43 Votes)
El Segundo White Dog IPA (2%, 42 Votes)
Golden Road Heal The Bay IPA (1%, 40 Votes)
Boneyard RPM IPA (1%, 30 Votes)
Maine Beer Lunch IPA (1%, 26 Votes)
Noble Ale Works Big Whig IPA (1%, 24 Votes)
Smog City Hoptonic IPA (1%, 24 Votes)
Mad River Jamaica Sunset IPA (1%, 21 Votes)
Bootlegger's Far Out IPA (1%, 20 Votes)
Ironfire 5150 IPA (1%, 15 Votes)
Surly Overrated IPA (0%, 13 Votes)
La Cumbre Elevation IPA (0%, 12 Votes)
Total Voters: 2,683
Loading ...