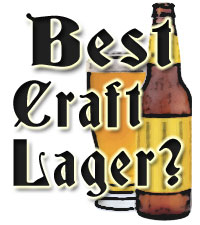 The unsung hero in the craft beer industry is the Craft Lager. Not the fizzy yellow stuff you see advertised on tv, craft lager is tasty and comes in many forms just like ale. The Full Pint want's to know, What's The Best Craft Lager? We've picked close to 30 craft lagers in many popular styles to choose from, but feel free to WRITE IN YOUR VOTE if you don't see your favorite on the list.
Here are a few quick rules and tips for this poll, which is intended to bring friendly competition, craft lager awareness, and fun! POLL ENDS MAY 30, 2011 5PM EST
You can choose from our list below or you can write in a vote using our comment feature below the poll.
If you are having problems voting, please contact us via our contact page.
You are encouraged to share this poll with your friends and family on Twitter and Facebook.
Don't cheat, it's not cool.
Writing in a craft lager that is already listed won't be counted as a vote. You can however cheer on your favorite listed beer in the comment section all you want.
If you are a brewery who has a beer over looked, talk to us, we just forgot!
Click here to join The Full Pint's Daily Mailer
Click here to Like Us on Facebook
Click here to Follow Us on Twitter
Best Craft Lager?
Full Sail Session Lager (18%, 450 Votes)
Devil's Canyon Lager Diabla (16%, 408 Votes)
Coney Island Lager (10%, 252 Votes)
Great Lakes Dortmunder Gold (10%, 239 Votes)
Brooklyn Lager (7%, 172 Votes)
Great Lakes Eliot Ness (6%, 153 Votes)
Victory Prima Pils (4%, 88 Votes)
Rogue Dead Guy Ale (3%, 73 Votes)
Karl Strauss Amber Lager (3%, 69 Votes)
Trumer Pils (3%, 68 Votes)
Upright the Clash (3%, 68 Votes)
Oskar Blues Mama's Little Yella Pils (2%, 58 Votes)
Metropolitan Flywheel Lager (2%, 47 Votes)
Maui Brewing Bikini Blonde Lager (2%, 46 Votes)
Smuttynose Maibock (2%, 45 Votes)
Surly Hell (1%, 34 Votes)
Ballast Point Fathom IPL (1%, 29 Votes)
The Bruery Humulus Lager (1%, 20 Votes)
Avery Joe's Premium American Pilsner (1%, 20 Votes)
Troegs Trogenator (1%, 20 Votes)
Sierra Nevada Glissade Golden Bock (1%, 18 Votes)
Surly SurlyFest (1%, 15 Votes)
Southern Tier Krampus (1%, 13 Votes)
Sly Fox Pikeland Pilsner (0%, 12 Votes)
Moonlight Reality Czech (0%, 12 Votes)
Hangar 24 Helles Lager (0%, 9 Votes)
Three Floyds Gorch Fock Helles (0%, 9 Votes)
Victory Braumeister Pils (0%, 8 Votes)
New Glarus Uff-da Bock (0%, 8 Votes)
Craftsman 1903 Lager (0%, 7 Votes)
Firestone Walker Oaktoberfest (0%, 7 Votes)
Troegs Sunshine Pils (0%, 7 Votes)
Southampton Publick House Keller Pils (0%, 4 Votes)
Port Brewing Hot Rocks Lager (0%, 4 Votes)
Total Voters: 2,492
Loading ...