The Lowdown On Golden Road Brewing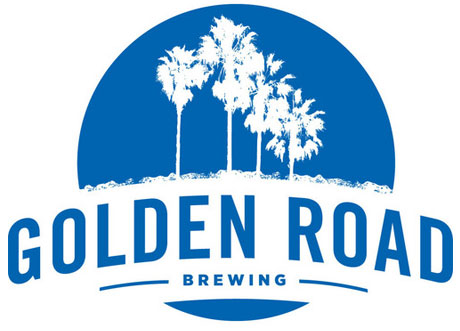 It's been a dream of mine to be able to go to my nearest liquor store or beer/wine warehouse and pick up some good craft beer made here in Los Angeles.  My prayers have been answered.  Tony Yanow, of Tony's Darts Away and Mowhawk Bend fame has assembled a dream team, and bunch of money to make my dream a reality. The doors opened up for Golden Road Brewing one week ago.  The main players that you should know are Meg Gill and John Carpenter.  Meg Gill is a young lady who helped take a small company by the name of Oskar Blues to national prominence, and helped make craft cans part of our craft beer culture. Jon Carpenter  has been brewing for various breweries, most notably Dogfish Head. As a California native, it wasn't very hard to convince Jon to come brew for this promising startup venture.
Why is this venture promising?  Because Los Angeles, compared to almost every other Metropolitan area, has been void of accessible local craft beer. Golden Road brewing will be making 16 oz. cans that I will be able to buy where I buy my fresh Stone, Firestone Walker, Port, Alesmith, etc. While I love the fresh beer coming from San Diego, I cannot wrap my mind around why us Angelenos can't have it made here. We need something we can be proud of to call our own. We're keeping our fingers crossed that Golden Road is the answer. Our friends at Eagle Rock make a helluva beer, I just have to drive about 20 miles to get it. Same goes for Strand and Ladyface , which are 40 miles away, and both of them don't bottle either. I've heard various reasons why this has been difficult to execute in Los Angeles specifically, but with the majority of the worlds wealth in this area of the world, I figured eventually someone will come up with the right formula to make it happen.
Golden Road just constructed a  big brewery, bigger than anything you have seen for a startup craft brewery, with highly intelligent folks running it, but how's the beer?  Golden Road has two flagship brands. Point The Way IPA and Hefeweizen.  As a guy who likes hops, I gravitated towards Point The Way IPA.  It's being pitched as an alternative to the high gravity hoppy beers on the market. A beer you can drink a few of, and still make it home safe.  After my first glass of it, I found it to be way drinkable, and balanced.  When I say balanced, I'm not suggesting it's not a West Coast style, it does have the juicy aromatic hops that we love, it's just not blow your face off hoppy.  This beer is something that will appeal to a large audience, especially those new to craft beer.  I skipped on the Hefe, because it's not my bag, but you can be sure I will be trying it as well as reviewing it.  During their grand opening, I did get to try Burning Bush IPA, the first Smoked IPA I've ever tried.  I thought it would either be a disaster or really good.  A smokey frickin IPA?  Bitter hops, smokey nose and flavor, but not over powering like a traditional Rauch.   I can dig it. It was real tasty.
We wanted to get you the lowdown on Golden Road Brewing, so we dug a little deeper and talked to the man, Tony Yanow:
The Full Pint:  How long was the planning phase before the soft launch?
Tony:  Meg and I got serious about opening a brewery in LA in March 2011 We signed a lease and submitted our permit and license application in April. We were fully permitted to brew and brewed our first batch in August. We put beer into the marketplace in September at local bars.We will open the pub hopefully within a month.
TFP: How many usable square feet is your facility?
Tony:  The lot size is 2 acres.The interior sq ft is about 34,000 in the 4 units that we occupy. There is another unit in the red building that we have been discussing, it is about 8,000 more feet…. when we need it
TFP: How was this huge project funded?
Tony: Three of us privately invested.  We rely heavily on SBA loans.
TFP: How long do you plan the return on investment taking?
Tony:  I'm hoping that our products continue to be well received in the market place and the demand grows.  I am not focused on ROI, I am focused on building our brand and bringing this beer to the people of LA.
TFP:  What's the game plan for the first year?
Tony:  We hop to brew as much top quality beer as we can sell.  We're hoping that in the calendar year 2012, we sell 10,000bbl.
TFP: What stores will we see Golden Road cans?
Tony:  Hopefully the Lone Hill Liquors and the Cap' Corks of the world as well as the Von's and Ralph's of the world.
TFP:  Will Southern California be your target market?
Tony:  We are focused exclusively on the greater LA market.  We are not looking to central coast or San Diego.  Currently we are only looking at LA city and the neighboring towns.
TFP: How long before we get speciality/barrel aged beers?
Tony:  Our first specialty is out now!  Burning Bush IPA got an amazing response on Sunday.  None of us were surprised that beer geeks would gravitate toward it, what amazed us was how many people in the broader spectrum of beer drinkers were loving it.  It's a smokey IPA with just the right balance between smoke and Hop.  Jon is brilliant.  I had never even heard of a rauch ipa until he put it under my nose.  We sat around the tasting table and each of us fell in love it. Our barrel aging program has just barely begun but we are aging our weiss beer in some tequila barrels right now and we have a bunch of other barrels that will be filled.  Our long term plan is to have a very sizable barrel room in the red building, but that will take time. Some specialties that are coming out soon include (no production schedule for all of them):
– Imperial Rye Porter that Jon, Meg and I have been discussing for some time.  I'm excited about it because its a beer I have made at home a few times and Jon is going to base his recipe off mine (or at least he's allowing me to believe)
– Nitro Stout that will be very rich and very smooth.  I'm guessing it'll be about 4.5%
– We also have an Imperial IPA that jon has been tinkering with.  I'm quite certain it will be amazing. There are about 30 others we have talked about.
TFP:  Who will be your main competitor out of the gate?
Tony:  We never look at it that way.  We are making beers we want to drink, hoping that others will feel similarly.  What I know from my other beer businesses is that there are niches within the spectrum of beer that are not well covered and very few are covered by local brewers.  It's fun for us to make delicious beer and share it with enthusiastic beer drinkers all over town.  We'll continue to make beer that we think has a place in the region.  If people like them, we'll keep making them.  If people don't we'll make less of that flavor and come up with some new ones.
TFP: With that huge space, might you consider subletting space for contract brewing to help pay bills?
Tony:  We have a very attractive lease that allows us to focus on making beer and not worry too much about covering rent.  At this point we have no plans to do anything other than make beer and grow into the space.
Golden Road Brewing's Official Website: http://goldenroad.la/
Like Golden Road on Facebook: http://www.facebook.com/goldenroadbrew
Follow Golden Road on Twitter: @GoldenRoadBrew