Interview – Joey Redner of Cigar City Brewing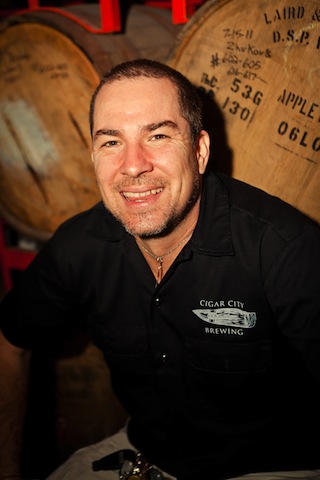 In celebration of Tampa Bay Beer Week and the upcoming Hunahpu's Day Release, we present you with an interview with Joey Redner of Cigar City Brewing. Joey is the founder of Cigar City Brewing, and has a lot to share with us. Read on about the Tampa Bay Beer scene, collaborating with other breweries, the upcoming canning initiative and more.
The Full Pint – Joey, give us the short version of how Cigar City came to be?
Joey Redner – I kept waiting for another brewery to open within the city of Tampa so I could invest and/or go work for them. It never happened so I finally set out to open my own brewery and started with the idea that we'd brew beer we like to drink and would use the opportunity to help promote Tampa's culture.
TFP – Before you guys and Saint Somewhere, there wasn't a whole lot of buzz about Craft Beer in Florida, compared to say any state in the mid west region. Would you attribute the different level of interest, pre-Cigar City to the weather or culture in Florida? What was it?
JR–  I think some of it has to do with the growler laws here as far as out of state awareness of Florida beer. Straight up brewpubs can not sell growlers in Florida. There are a lot of great brewpubs here but the beer never leaves the brewpub so few people know anything about them except locals and tourists who can only describe them to others. They can't share them. Tampa Bay Brewing Company recently switched from brewpub to manufacturer so they could get their product out there and the response has been great. If we could get the laws changed to allow brewpubs to sell growlers I think that would help. Growler packaging is something any brewpub can pull off. Bottling or canning is a huge leap in technology and cost, but growlers are available to every beer producer.
There has been a beer scene in Florida for a long time and there has been good beer made in Florida just as long. Wayne Wambles our head brewer was winning World Beer Cup and GABF medals in the early 2000's out of Tallahassee, FL but he was winning them at a brewpub and since there was no package for visitors to take back very few people knew anything about the beer.
There is also probably an element of some breweries in the past trying to brew to the lowest common denominator. But that exists almost everywhere. I think the bigger issue was lack of exposure.
TFP –  We noticed when you guys first opened, there were some growing pains on the bottling line that resulted in some very noticeable off flavors in some of your beers.  How were you able to overcome that, and what advice could you give to other very young breweries that are trying to make a name right out of the gate?
JR – A lot of that goes back to what I said about the cost and technological requirements of bottling. To grow a brewery you need to bottle as a lot of people will only experience your brand via bottles. But sticking to draft only is vastly safer. Bottling is fraught with peril and when you are growing on top of yourself as we have been it is even more difficult to ensure you are handling everything right.  We addressed the issue by reevaluating our sanitation protocols, investing in new equipment and developing a QA/QC position to ensure we are protecting the quality of the beer.
TFP – Arguably one of the best beers in the world, Hunahpu's Imperial Stout will be returning this March.  How did that beer come to be?
JR–  Thanks. Hunahpu was Wayne's brainchild. He draws a lot of inspiration from the culinary world and he had the idea to do a Mayan Chocolate beer with peppers when he was at his previous brewery, but never had the chance.  When he pitched it to me it sounded delicious so we test batched it and it turned out better than I imagined.
TFP– Tying into the Florida question and the Hunahpu question, how were you able to predict that Florida could hang with not one imperial stout, but two (the other being Marshal Zhukov's )?  It doesn't seem like something that would go nice with the weather there, and here you can't make enough of it.
JR –  Well we do have a cool season in Florida. It's clearly not as cold here as it gets in most other states, but a few months out of the year we do crank up the heater. So for this short window it's nice to have a big warming beer. Even if we didn't though we'd still brew it and encourage people to drink it with the A/C cranked tot he lowest setting!
TFP–  Early on, some of the nerds on RateBeer gave Cigar City and their local fans a hard time (lovingly so) about the dozens of variations you guys have brewed of any particular beer. In all of your experimentation, have you found an adjunct or treatment that you would absolutely not try again based on results?
JR – A bunch of them actually. I know we tried to do a licorice beer several times and just couldn't get anything remotely tasty from those experiments.
TFP– With that said, can you think off the top of your head of some adjuncts or variants you are dreaming up that you haven't done yet that might see the light of day?
JR – We are working on a double cream ale aged in Tequila barrels with lime peel and cumin added.
TFP – 2010 and 2011 were big years for collaborating with other brewers. While we imagine it was fun, from a business standpoint, what did Cigar City gain from these ventures? Will there be more or less collaborations in the future?
JR –  Collaborations almost always help us improve technique. There is so much to learn, more on the process side than the recipe side, that we always walk away from collaborations feeling like we have a better more educated brewery staff. You can always learn something new and usually when we collaborate we learn a lot of new things.
TFP – You guys had a fairly high-profile booth at this past years GABF and had one of the longest lines at the show. Now that the word is getting out about you guys, what market do you plan on attacking next?
JR –  The goal for now is stabilize supply in Florida. Every time we think we have a handle on it demand increases. Once we have firm footing supplying Florida the goal is to focus on the southeast so GA (already there but seldom have beer to send), NC, SC and Virginia (we sent a token amount to Richmond already).  We also need to keep sending beer to NY and Philly as they have been with us since the beginning and we haven't been able to get them much beer.
TFP –  You guys have been doing the rare bottle releases for a few years now. What has been your trick to avoiding the shit storms that other small rare releases have been notorious for causing?
JR –  We have had our share of shit storms. The BA Hunahpu release got out of control. I really don't think there is a perfect way. Someone will always dislike something you choose to try. I try to make things as fair as possible and minimize the pain for our customers. Most of the time we pull that off. Sometimes we don't. We are still kicking around ideas to make it a more fair and less of a pain in the ass. But I doubt we will ever hit upon the perfect solution.
TFP –  We are anticipating your flagship beers to be canned this year. Outside of what's been widely reported, please tell us the defining moment when you said "that's it, no more bottles for our flagship beers?"
JR – I actually felt that way when we first started but didn't have the money to start canning in an efficient way. The advantages of cans are well documented, but their practicality in an outdoor focused environment like Florida can't be understated. Golf, disc golf, boating, fishing, concerts, the beach, festivals there are just so many places where bottles are verboten and cans are ideal.
TFP – Finally, what is your favorite non- Cigar City beer?
JR –  So many…… Some all time favs are Goose Island BCS, Anchor Porter and just about everything Founders does,  I also really dig Hill Farmstead George and Abner. Tampa Bay Brewing Company Jack the Quaffer Porter, Alesmith Wee Heavy Scotch Ale and Cuvee Des Jonquilles.
Click here to Follow The Full Pint on Twitter
Click here to Like The Full Pint on Facebook
Click here to Follow Cigar City on Twitter
Click here to Like Cigar City Brewing on Facebook