GABF Tips and More with Drinking Made Easy's Zane Lamprey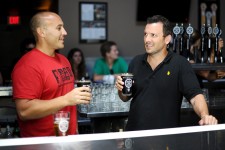 We had a chance to sit down with adult beverage zen master Zane Lamprey for a little Q & A.  For those who don't know Zane, he hosted Three Sheets(Currently on Spike TV), and is currently hosting Drinking Made Easy on HDNet. We touched on Zane's craft beer travels, his thoughts on the booming craft beer scene, as well as tips on how to survive at this years Great American Beer Festival.  Enjoy!
The Full Pint:  So Zane, how has the craft beer community been treating you as of late?
Zane Lamprey: The craft beer community treats me very well, I get free beer! Three Sheets got me notoriety, we did 52 episodes, 48 were aired internationally. In the US, the show content was very specific. We didn't really focus on the craft beer or artisan spirit scene. When I got a chance to do Drinking Made Easy, it gave me a really good opportunity to explore the craft beer scene. I explored it as a fan more than a host. For the last two years I've been able to really go around and have conversations with craft brewers, and understand what they are doing and what they might be doing uniquely to others. I like to get the backstory from the creator before taking my first sip. Every time we shoot in a new city, we check out the craft beer scene.
The Full Pint: Are you surprised at how big craft beer has gotten here in the States just in the last year?
Zane Lamprey: No, I'm not surprised. The US is about the same size as Europe, but Europe is broken into many more cultures. Each one of those cultures has a rich beer scene. You will see that kind of reception here in the states. It may go up and down in waves, but it will never go away.
The Full Pint: What kind of craft beer goodness can we expect with Season 2 of Drinking Made Easy?
Zane Lamprey:We hit a lot of breweries! The first one we hit was Maui Brewing. We hung out with Garrett Marrero, and we got some really great access to his brewery, and his experimental beers. The viewers will be sad watching me try beers that may never make it off the island. We went to Asheville, NC, and they have this rivalry going with Portland, OR.  They have this beer city rivalry where they go back and forth as to who is better.  We went to Asheville in one episode and visited all their breweries.  You'd be surprised at how enthusiastic that region is for craft beer.
The Full Pint:Who are some of the coolest players in Craft Beer that you've met on your travels?
Zane Lamprey: Jim Koch (Samuel Adams), Fritz Maytag(Anchor Brewing) and Charlie Finkle(Pike Brewing). All the people I mentioned are great pioneers. When they set out to do what they did, they had no idea how big this was going to get.  Those are the people to me, that are the coolest players, perhaps the old timers that blazed the way for us.  Then there's the new blood like Greg Koch at Stone and Garrett at Maui doing amazing things for the business.
The Full Pint: Are you ready for GABF?
Zane Lamprey: Yeah I am ready for it. I'm excited for it. I haven't been there for two years because I've been on tour. I'm going there, hanging out with some folks at DRAFT magazine. I really want to be there. I'm looking forward to saying hi to the 47 plus brewers I've met while doing Drinking Made Easy.
The Full Pint: Do you have any recovery tips or survival tips for GABF?
Zane Lamprey: You are not going to survive! Normally I'd say pace yourself. Now is not the time. You need to make an adult decision, and figure out how you are gonna get home.  My hotel is walking distance. I'm going to stumble back because I'm going to have a blast. People are not going to be able to try 320+ breweries worth of beers, but you are gonna try as many as you can. Even though it's 1 oz. pours, there is going to be some strong 1 oz. pours. It's about the appreciation and celebration of beer, but remember beer is a social lubricant, and you will be interacting with people and having fun, so there will be little chance of you maintaining complete control.
The Full Pint: Collaborations are the hot shit in the craft beer industry, have you been approached to team up with any craft breweries on a project?If not, who would you love to work with?
Zane Lamprey: I have been having a discussion with different breweries, and will continue during GABF weekend, and will make an announcement afterwards. There are irons in the fire.
The Full Pint: What's on the horizon for Zane Lamprey?
Zane Lamprey: I have a lot going on. My album just came out, I have season 2 of Drinking Made Easy coming out Oct 5. Season 1 on DVD drops Oct 4. Zanetoberfest, my 3rd annual Oktoberfest party in Chicago and some other tv projects in the works.
Learn More About Zane's Upcoming Projects, Products and Events
Sing The Booze Live – Album
Drinking Made Easy DVD Season 1
Drinking Made Easy Season 2
Zanetoberfest
CLICK HERE TO ENTER GABF HEADQUARTERS
Click here to like The Full Pint on Facebook
Click here to Follow The Full Pint on Twitter