World Of Beer Tempe One Year Arizonaversary
Tempe, AZ – It's been one year since World of Beer Tempe set up shop on Mill Ave and started pouring the love of craft beer for thirsty patrons to enjoy.
An Abundance Of Rare & Local Beer Including Rare Firestone Walker tapping, fifty-eight local beers and food trucks top celebration highlights
Since then, folks have traveled the world, one pint at a time, hopping through more than 500 different beers and over 50 taps, for a global flavor explosion, all from the comforts of bar stool.
Now, World of Beer Tempe is gearing up for a four day Arizonaversary celebration with rare beers, a local beer tribute, an exclusive SanTan brew, food trucks, chances to win tickets to the 2013 Great American Beer Festival and much more.
The fun kicks off on Wednesday, August 7, with a Firestone Walker Party featuring Union Jack, Double Jack, Wookey Jack, Pale 31, Pivo Pils and unfiltered Double Barrel Ale (DBA) on tap all day plus a few Firestone rare beers rolling out on tap from 7-9 p.m. including Parabola, Double DBA, Sucuba and Sixteen.
Then, on Thursday-Friday, August 8-9, the anniversary celebration continues with more than 50 rare and allocated beers on tap. Highlights include:
North Coast Brewing, Barrel Aged Old Rasputin XV
Sierra Nevada, Narwhal Imperial Stout
Deschutes Brewery, Black Butte XXV and The Abyss 2012
Brasserie Dieu du ciel, Rigor Mortis ABT
Odell Brewing, Wooden Sidecar and Amuste
Green Flash Brewing, Super Freak and Little Freak
Epic Brewing, Big Bad Baptist Imperial Stout
Dogfish Head Brewery, 120 Minute IPA and Red & White
Nectar Ales, Black Xantus
The Bruery, White Oak
… and many more!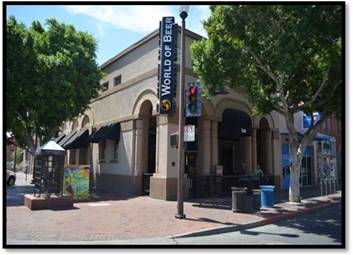 On Saturday, August 10, World of Beer Tempe salutes Arizona's local breweries with a celebration dubbed, The Arizona Great Fifty-Eight. Patrons will enjoy 58 different beers from 26 Arizona breweries plus a World of Beer exclusive spiced amber beer from SanTan Brewing Company called Beer of the World. This SanTan Brewing exclusive features ingredients from across the globe with American malt, South American cacao nibs, European roasted barley, African coffee, Asian black peppercorns and Australian black licorice, 5.5% ABV, 25 IBU.
The Grilled Cheese Truck will be on site Saturday from noon – 5 p.m. serving up gooey cheese filled deliciousness and the Hungry Monk's new food truck, the Traveling Monk will be on site from 5-10 p.m. serving pub favorites.
About World of Beer
The first World of Beer location opened in Tampa, Florida in 2007. Since then, the phenomenon of the "WOB Culture" has swept the nation with dozens of locally owned locations opening up in states across the country. In 2012, the first Arizona location opened its doors on Mill Ave in Tempe. Since opening, World of Beer Tempe has offered more than 1,500 different beers to its loyal patrons and growing fan base. The craft beer community and local college crowd have helped to make World of Beer Tempe a success and now craft beer lovers in Arizona are looking forward to welcoming two new locations in Tucson and Gilbert in late 2013.
World of Beer Tempe offers more than 500 different beers and over 50 taps, beer-centric events, live music and good times. World of Beer Tempe is located at 526 S Mill Ave at the corner of 5th Street and Mill Ave and is open Monday-Friday, noon – 2 a.m. and Saturday-Sunday, 9 a.m. – 2 a.m. "Like" World of Beer Tempe on Facebook at www.facebook.com/wobtempe for more information on special events, rare tappings and promotions. For more information about World of Beer and to find a location near you, visit www.wobusa.com.