Wicked Weed Brewing Weird Science Beer Dinner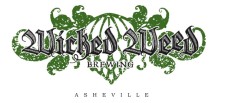 Asheville, NC – Wicked Weed Brewing will kick off our three part beer dinner series on Tuesday, March 25th with "Weird Science". This unique beer dinner will be a highly creative, molecular gastronomy driven meal. Come to this dinner expecting a play on flavors and textures as food and beer may look, smell or feel extremely different than how it tastes. Chefs Cardiff and Thomas have been putting their heads together for months to come up with exciting and interesting dishes and are looking forward to showcasing their cooking skills at this meal. For all the creative, experimental and interesting people out there, this beer dinner is for you.
Wicked Weed Brewing
91 Biltmore Ave
Asheville, NC 28801
Tuesday, March 25, 2014 from 6:30 PM to 9:30 PM (EDT)
Dinner starts at 6:30 pm with a cocktail half hour. At 7 pm each diner will be invited to take a seat and the five course dinner will begin. Each course will be paired with a beer in one form or another.
Half of the tickets will be available online at eventbrite for convenience. The other tickets will be sold in person at the brewpub.
The $65 dollar fee includes the cost of the dinner and tax but does not include tip. Please bring cash to the event if you desire to tip the wait staff.
Interested in the rest of the beer dinners in this series?
Check out beer dinner #2 https://brewersvschefsbeerdinner.eventbrite.com
Check out beer dinner #3 https://vbeerdinner.eventbrite.com
www.wickedweedbrewing.com – @WickedWeedBeer – facebook