Washington Belgianfest 2011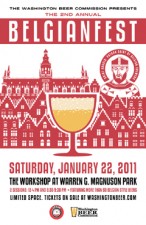 Seattle, WA – This event will put a spotlight on the fascinating beer culture of Belgium by showcasing 50+ Belgian-style beers by Washington breweries.
Featured beer styles include Tripels, Dubbles, Saisons, Wits, Abbeys and Lambics. All the beers will be brewed with Belgian yeast.
BELGIANFEST is a fund raiser for the Washington Beer Commission, the first commission of its kind in the nation.
Established in July 2007, the Commission represents all 130+ breweries in Washington State.  The Commission's mission is to ensure that more beer enjoyed in Washington state is made by its own craft brewers, using ingredients from our state's agricultural industry.
ADMISSION AND ADVANCE TICKETS
-$30 advance tickets or $35 at the door
-Admission includes a commemorative tasting glass & ten 4 oz. tastes
-Designated driver admission is $5 and available at the door only (includes free water/soda)
-Must be 21 years old or older and have a valid ID
And at these Seattle-area TICKET OUTLETS beginning Monday, January 10
Big Time Brewery
4133 University Way NE
Seattle, WA 98105
Full Throttle Bottles
5909 Airport Way S
Seattle, WA 98108
BREWERIES EXPECTED TO ATTEND (list subject to change)
Anacortes Brewery
Baron Brewing
Big Al Brewing
Big Time Brewery
Black Raven Brewing
Boundary Bay Brewery
Der Blokken Brewery
Elliott Bay Brewing
Elysian Brewing
Fremont Brewing
Georgetown Brewing
Hale's Ales Brewery
Issaquah Brewhouse
Naked City Brewery
Odin Brewing
Paradise Creek Brewery
Pike Brewing
Ram Brewery
Redhook Ale Brewery
Scuttlebutt Brewing
Snipes Mountain Brewery
Snoqualmie Falls Brewing
Two Beers Brewing
Lazy Boy Brewing
Silver City Brewery
For more info visit www.washingtonbeer.com