Tickets Now On Sale For The 13th Annual Breastfest Beer Festival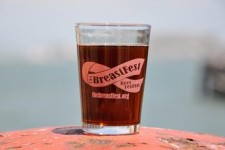 San Francisco, CA – Northern California's Premier Beer Tasting Event Returns to Fort Mason. Join us for the Breastfest Beer Festival, one of Northern California's most prestigious tasting events, at Fort Mason's Festival Pavilion on Saturday July 13th, 2013 from 2 pm – 6 pm. Participation raises funds for the non-profit health center, Charlotte Maxwell Complementary Clinic, which supports economically challenged woman in their fight against cancer. Sample over 60 breweries, several cider houses and wineries, while getting your groove on to rock and roll party machine Wonderbread 5. Ticket price includes live music, food, unlimited tasting and a Breastfest commemorative cup. Cheers to a good time for a good cause!
It all began while a daughter watched her mother fight breast cancer and was shocked to find Complementary Alternative Medical Treatments are rarely if ever covered by health care plans. It was an eye opening experience to discover those treatments made her mother feel better and aided in her recovery.
Thus, The BreastFest Beer Festival, a non-profit 501(c)(3) was born as a way to help raise money for and support the Charlotte Maxwell Complementary Clinic (CMCC), a state licensed non-profit clinic offering alternative medical treatments for low-income women diagnosed with cancer. Located in Oakland and San Francisco, CA, Charlotte Maxwell Clinic includes services such as acupuncture, Chinese and Western herbs, massage, therapeutic imagery, social services, organic foods and transportation. The clinic's core mission is to provide relief from the terrible side affects of cancer and it's treatments (pain, nausea, fatigue, and loss of appetite,) to enhance immune function and better the quality of life for women battling cancer. Low income women in the U.S. are four times more likely to die from their form of cancer than those living above the federal poverty line. For this reason we seek to level the playing field and offer women tools to complete their prescribed cancer treatments, thereby increasing their chances of survival.
In July, 2000 the first Brewfest was held in Marin County, CA, hosting 16 local breweries, it was a successful start for many more to come. Years later, it has grown to welcome 60 breweries, local food purveyors and Bay Area musicians who all join together to help women gain access to alternative means of cancer therapy!
This is a festival organized for the purpose of helping those in need, created in an era in which beer-tasting events were far and few between. The BreastFest has become an elite presence for breweries on the West Coast and beyond, it gives the craft brewing industry a way to create camaraderie for a worthy cause. It's an event at which beer pioneers and festive attendees join hands and give back to the community committed to beating cancer!
To read more about the Charlotte Maxwell Complementary Clinic click here.
Tickets are $50 in advance at $60 at the door and can be purchased on the website www.thebreastfest.org or at Marin Brewing Company, located at 1809 Larkspur Landing Circle, Larkspur, Ca 94939 or Moylan's Brewing Company, located at 15 Rowland Way, Novato, CA. For details about the hosting breweries, Marin Brewing Company and Moylan's Brewing Company please visit www.marinbrewing.com or www.moylans.com
www.thebreastfest.org – @thebreastfest – facebook