The Full Pint 12th Anniversary Kegger – September 7, 2019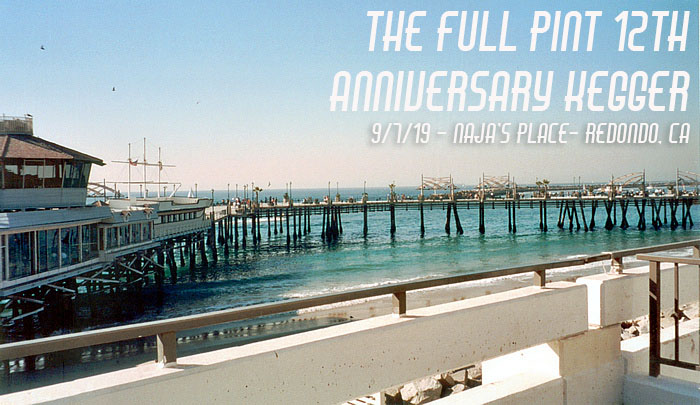 We are returning to our annual tradition and will be throwing an amazing, intimate party to celebrate our 12th anniversary of bringing you daily beer news, reviews, articles and weekly podcast. On September 7, 2019 we will be returning to Naja's Place on Redondo Pier where we will be drinking some of the best beer in the world with you, or most loyal and loving followers. Read on for details of the VIP Session and General Admission Session that is sure to be the most fun beer event of the summer. Consider this a live document that will be updated many times between now and the event.
What: The Full Pint 12th Anniversary Kegger, an intimate beer event featuring 50 of our favorite breweries on tap. There will be a ticketed VIP Session followed by a General Admission session with a cover charge.
Where: Naja's Place 154 International Boardwalk, Redondo Beach, CA 90277
When: Saturday September 7, 2019 – VIP Session 7PM – 9PM, General Admission Session 9PM – 1:30 AM
VIP Session: LINK TO BROWN PAPER TICKET SALE April 5th, 2019 at 12 PM PDT  $85 plus service fees and tax – From 7PM to 9PM, VIP ticketed guests will receive 1 commemorative glass, 8 10 taster tickets and 1 bonus pour upon entry 1 ticket to redeem food. Additional beer can be purchased once tickets are used. Tickets are valid after the VIP session is over until closing at 1:30am.
General Admission Session: Beginning 9PM, Naja's Place will be charging a cover of $10 for entry into The Full Pint 12th Anniversary Kegger. Your cover charge will supply you with a commemorative glass while supplies last. Upon entry, you can pay as you go when ordering beer and food.
Entertainment and Food: There will be a live band playing during the VIP and General Admission sessions. We will announce who is playing at a later date. During the VIP Session, we will have a special plate. Please drop us a note if you require a vegetarian option so we can get an idea of how to accommodate.
Parking: The Redondo Pier has paid covered and uncovered parking. We strongly advise against driving to this event unless you are being driven by a friend who is not drinking.
Staying safe: In addition to using your favorite Ride Share Service, please also consider booking some lodging. Follow this link for hotels near by. https://bit.ly/2K0ZFgU
Participating Breweries/Beer List* (Subject to change)
3 Sons Brewing – Rum Barrel Aged Banana Hammock
Alvarado St. Brewery – Galaxy, Baby!
Arts District/Imperial Western – Courier Corps Single Hop IPA
Bagby Beer – Gotta Pay the Pils (German Pilsner)
Beachwood Brewing – From Long Beach with Love (Long Beach Brewery Collab, West Coast IPA)
Bottle Logic Brewing – Beer Geek Observation
Burgeon Beer – Western Shore" IIPA. Hopped with Cashmere, Simcoe, Citra, Citra Cryo and Simcoe Cryo (IPA Collab with Madewest)
Burnin Daylight Brewing – Rolling Pilsner (Mosaic Dry-hopped Pilsner)
Burning Barrel Brewing – Fresh Out The Oven V5 (Blackberry/boysenberry pie Imperial Sour with Mexican Vanilla beans and cinnamon)
Cellador Ales – Fleur de Masumoto
Cellarmaker Brewing – Green Knuckle Strata (Wet Hop IPA)
Chapman Crafted – Hawaiian Like Sunday Morning – Hazy IPA with POG juice added.
Cigar City Brewing – Criminal Commission
Courtyard Brewery – NOLA Coffee Inspired Milkshake IPA
Dionysus – Lil' Miss Cherry – A foudre aged sour ale with cherries and vanilla beans
El Segundo Brewing – Broken Skull IPA
Eppig Brewing – Special Lager (Japanese Style Dry Lager)
Faction Brewing – Enigmatron
Fieldwork Brewing – Galaxy Sauce
Firestone Walker 2017 Stickee Monkee
Forest and Main – Wooden Bath (Barrel aged Saison conditioned on raspberries)
Funk Factory Geuzeria – Blackberry Meertz
Great Notion Brewing – Sticky Bun – Breakfast Imperial Stout Collab with TFP
Green Cheek Beer – Oaked Just Right – Barrel Lagered Helles-Style Lager
Gunwhale Ales – California Cobbler – Barrel Aged Rye Saison with Peaches and Cinnamon
Half Acre Brewing – Benthic (Imperial Stout aged in bourbon barrels treated with coffee and coconut)
Highland Park Brewery – 242 MPH (Adjunct imperial stout with Horus Aged Ales)
Homage Brewing – Wild Pink Robots
Hop Saint Brewing – Festbier
Horus Aged Ales – Deeper Shade (French Oak Barrel Aged Imperial Stout with Hazelnuts and Jamaica Blue Mountain Coffee)
Ironfire Brewing – All Oak Everything Batch 2 (Tequilla barrel aged pastry stout)
J. Wakefield Brewing
Moksa Brewing – Joyus Almonds – Imperial Stout with Almonds, Coconut
)
Monkish Brewing – More Crates (Triple IPA)
Mumford Brewing – Unnamed Collab with LIC Beer Project
North Park Beer Co. – Dodici – TFP 12th Anniversary Commemorative Italian Pilsner
Other Half Brewing – Street Green (DIPA Collab with Trillium)
Pizza Port Brewing – Executive Member Double IPA (Collaboration with TFP)
Pure Project Brewing – CORYLUS (Bourbon barrel aged stout with coffee, hazelnut and vanilla)
Rowley Farmhouse Ales – Body Isn't Life (An Eggheaded English Barleywine brewed with Pipeworks)
Sante Adairius – Cellarman
Smog City Brewing – 2016 Bourbon OE
Societe Brewing – The Heiress Czech Style Pilsner
State Brewing – Family Geminus (Hazy DIPA w/ Orange Zest, Vanilla Beans and Milk Sugar)
TAPS Brewery and Barrel House – Trace of Remy
Temescal Brewing – Fluffy Pils
The Rare Barrel – Galicoe Cat – Sour IPA with Galaxy and Simcoe
Tired Hands Brewing – Pineapple Milkshake IPA
Untitled Art – Collaboration with The Full Pint – Cherry Cobbler Milkshake Double IPA
Urban Roots Brewing – Like Riding A Bike (Winner of the LA IPA fest)
Wild Barrel Brewing – Silence of the Haze
Wren House Brewing – Devil's Claw – A very special blend of barrel aged Imperial Porters.
Yorkshire Square Brewery – English Barleywine
FAQ
Q: How big will the pours be?
A: We carefully determine pour size based on a few factors including rarity and strength. One of our more rare beers will be hovering around the 5 oz. size to ensure that all of our VIP guests can enjoy it. A beer like a single IPA or Pilsner will be a bigger pour, around 10 oz. or so. After the VIP session, many beers will be sold as full pours.
Q: Will there be designated driver tickets for this event?
A: No.
Q: I'm a brewery rep or a distro rep, can I get in for free for VIP?
A: No.
Q: But our brewery sent the beer, what do you mean I can't get a comped ticket?
A: Just no.
Q: But I know Big Jay, I know Jonny Fullpint, are you sure I can't get a comped VIP ticket?
A: Nope, you can't.