The Chef, The Brewer And The Farmer – The Ultimate Foodie Collaboration During Philly Beer Week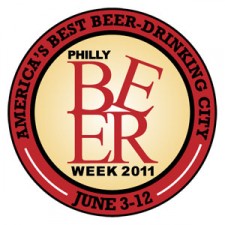 Philly Beer Week 2011 To Feature Great Food Events, Including The Ultimate Foodie Collaboration: The Chef, The Brewer And The Farmer Dinners
Philadelphia, PA – This June during Philly Beer Week (PBW) 2011, the region's top brewers will team up with some of the city's most gifted chefs and their favorite food purveyors for a series of dinners called The Chef, The Brewer and The Farmer. From Philadelphia magazine's "Best Chef, 2010" to Philly's own Iron Chef, the culinary talent combined with the incredible beer and local food "makers" at these dinners are sure to make them unforgettable events.
"Our region's talented chefs work wonders with local beers and local produce on a daily basis. This series of ultimate foodie beer dinners challenges them to focus their thoughts on 'local,' for the benefit of all Philly foodies." says Victory Brewing Company Head Brewer Bill Covaleski, who helped to conceptualize and organize the dinner series.
The Chef, The Brewer and The Farmer dinners are expected to sell out well in advance, so reservations are strongly recommended.  Please contact each restaurant directly for reservations or more details on their offerings.
Sun, June 5: Osteria (640 North Broad Street, 215-763-0920) – 5:30 p.m.; $100 per person
The Chef – Marc Vetri and Jeff Michaud
The Brewer – Carol and Jodi Stoudt of Stoudt's Brewing Company
The Farmer – Ian Brendle of Green Meadow Farm
Tue, June 7: JG Domestic (2929 Arch Street, 215-222-2363) – 7 p.m.; $75 per person
The Chef – Jose Garces
The Brewer – Casey Hughes of Flying Fish Brewing Company
The Farmer – TBA
Seven courses, each paired with one of Flying Fish's exclusive "Exit Series" beers, honoring the exits of the New Jersey Turnpike in a fun tribute to their home state.
Wed, June 8: Fork (306 Market Street, 215-625-9425) – 6:30 p.m.; $45 per person
The Chef – Terence Feury
The Brewer – Bill Covaleski of Victory Brewing Company
The Farmer – Ian Brendle of Green Meadow Farm
Four-course dinner pairing Victory beers that have been infused with local herbs from Green Meadow Farm.
Thu, June 9: Southwark (701 South 4th Street, 215-238-1888) – 7 p.m.; $65 per person
The Chef (s) – Sheri Waide and Nick Macri
The Brewer – Brian O'Reilly of Sly Fox Brewing Company
The Farmer – Paul and Ember Crivellaro of Country Time Farms
Four-courses featuring "the best pork you will ever taste" from Country Time with Sly Fox's beers.
Sat, June 11: South Philadelphia Tap Room (1509 Mifflin Street, 215-271-7787) – 4 to 8 p.m.; $8 per person
The Chef – Scott Schroeder
The Brewer (s) – Josh Ervine, John Rehm, Ben Schamberg and Dean Browne of Philadelphia Brewing Company (PBC)
The Farmer – Steve Gold of Murray's Chicken Co-Op
Fried chicken cookout where each guest will enjoy a plate of fried chicken, coleslaw and a pint of Kenzinger.  Mac-and-cheese will be available for vegetarians.  Guests can track the farm of origin for their chicken via table tents beside the dishes.
Sun, June 12: Marathon Restaurant – 1818 Market Street on the patio, 215-561-1818) 2 to 6 p.m.; $35 per person
The Chef – Luke Eschbach
The Brewer (s) – Tom Kehoe from Yards Brewing Company
The Farmer – Adam Hill from Marathon Farm
An outdoor pig roast with all-you-can-eat assortment of dishes inspired (and created from) the pig.  A seasonal assortment of accompaniments will be created from produce harvested on Marathon's urban farm.  All proceeds from tickets benefit the Marathon Farm.  Live bands will be playing throughout the day.
Throughout the ten days of Philly Beer Week, many restaurants and bars will be hosting great, culinary-inspired events.  Some beer-and-food festivities include:
Fri, June 3: Pub on Passyunk East, POPE (1501 E. Passyunk Ave, 215-755-5125)
"Voodoo Brewery Beer Pairing with owner Matt Allyn." 7 p.m. to 1 a.m.; pay as you go.  Opening Night of PBW, meet owner/brewer Matt Allyn of Voodoo Brewery, one of PA's best breweries for a special dinner menu featuring Haitian, West African and New Orleans-styled entrees to be paired-up with a superb line-up of Voodoo beers on draft.
Sat, June 4: Continental Restaurant and Martini Bar (138 Market St., 215-923-6069) "Bacon. Beer. Brunch." 10 a.m. to 4 p.m.; pay as you go.  Dig in to brunch specials and savor Prism Brewing's one-of-a-kind bacon-chocolate beer, Isana Stout.  For an even more decadent treat, try it in the Chocolate Bacon Beer Float.  Prism Brewing Company's Master Brewer, Joe Smith, will be around to chat with guests as well.
Sun, June 5: The Farmer's Cabinet (1113 Walnut St., 215-923-1113) "Rare Belgian Beer Geek Brunch & Mussels." 11 a.m. to 3 p.m.; pay as you go.  Known for their rare European taps, The Farmer's Cabinet will showcase even more distinct brews at this event, particularly Beglians, that have never before been tapped in the city.  Along with a variety of brunch items, mussels and frites will be served to pair with the beers.
Mon, June 6: Nodding Head Brewery and Restaurant (1516 Sansom St., 215-569-9525) "Punk Rock & Sandwiches." 12 noon to 3 p.m.; $60.  Join Dogfish head brewer, Sam Calagione, and Sean Paxton, the Homebrew Chef, for lunch to celebrate Philly Beer Week. Beers from Dogfish Head and Nodding Head will be paired with great food from Sean, all accompanied by classic tunes. Tickets are limited and are available by phone or at the pub.
Tues, June 7:    Valanni (1229 Spruce St., 215-790-9494) "Bacon Beer Dinner." 5 to 10:30 p.m. $40.  Four Troegs beers will be paired with four bacon-centered tapas.  Reservations are recommended and can be made at www.valanni.com
Wed, June 8: Monk's Café (264 S. 16th St., 215-545-7005) "Vanberg & DeWulf's 30th Anniversary Beer Dinner." 6 to 9 p.m.; $75. Welcome the original importer of Belgian ales. Don Feinberg pushed the envelope back in 1981 and we all benefited from his foresight. His portfolio has evolved over the years, yet he is still on the cutting edge like his Lambrusca which is a blend of lambic and kombucha tea. He also blends his own gueuze-style lambic.  Brasserie Dupont is considered one of the best breweries in the world and that's not all of his offerings.  Don has great insight into the Belgian brewing community and will chat about his decades of sweating and toiling for our continued refreshment.
Thurs, June 9:  The Bottle Shop (1837 E. Passyunk Ave., 215-551-5551) "Plenty Artisanal Foods and Craft Beer Pairing."  7 to 9:30 p.m.; $30.  Sample some of the goods from the new prepared foods shop, Plenty (1710 East Passyunk Ave., 267-909-8033), with four dish and drink pairings curated by The Bottle Shop.
Thurs, June 9:  Memphis Taproom (2331 East Cumberland Street, 215-425-4460) "Vegan Food (and Beer) Dinner." 6 to 9 p.m.; $75, including tax and tip.  Enjoy a five-course Vegan dinner paired with five Vegan beers.
Fri, June 10: Fergie's Pub (1214 Sansom St., (215) 928-8118), "Brooklyn Brewery Beer and Cheese Pairing." 6 to 9 p.m. Brooklyn Brewery is heading to Fergie's Pub with their own Irish Stout Firkin and a number of offerings from Garret Oliver.
Sat, June 11:    Prohibition Taproom (501 N. 13th St) "Kegs, Eggs and BYOV (Bring Your Own Vinyl) 12 noon to 1 a.m.  Taproom will be serving brunch all day long to help you nurse that beer week hangover, while they pour some of their favorite beers from the past 10 days.  For any guest who BYOV between 5 p.m. until 2 a.m., the DJ will play your records and you will receive 20% off their entire tab.
Sun, June 13:   Hawthrones (738 S. 11th St., 215-627-3012) "Scandinavian Beer Dinner." 6:30 to 9 p.m., $85.  Close out the last day of Beer Week with a four courses/five beers beer pairing dinner.  Featured beers will be from the vault and cellar of the Shelton Brothers private collection.  Several brewers will be on hand explaining their love and craft for your enjoyment.  Expect beer from the world renowned Mikkeller, Canitillon, Nogne-O, Beer Here and Haandbryggeriet.  This is a ticket only event and reservations are needed.
PBW 2011 is a 10-day celebration of "America's Best Beer-Drinking City," held from Friday, June 3 until Sunday, June 12.  Established in 2008, it's the largest beer celebration of its kind in the United States, featuring hundreds of festivals, dinners, tours, pub crawls, tastings and meet-the-brewer nights throughout Greater Philadelphia.  PBW highlights the region's diverse beer scene – its world-class breweries, neighborhood taverns, trend-setting restaurants and rich beer culture and history.  The festival is organized and operated by Philly Beer Week Inc., a non-profit 501(c)(6) organization overseen by a board comprised of brewery owners, distributors, restaurant owners and others, to promote the beer and hospitality industries.
For more information including the ever-expanding schedule of events and list of participants, please visit www.phillybeerweek.org or click here http://bit.ly/mTzkCV to access iphone, android and mobile web apps.