Taplist Unveiled for Portland Farmhouse & Wild Ale Festival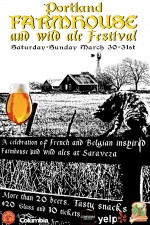 The Portland Farmhouse and Wild Ale Festival debuting March 30th and 31st at Saraveza and neighboring Bad Habit Room is excited to announce our diverse taplist. Increasing from the initially planned 20+ beers to now over 30 farmhouse and wild ales from across the country.
During the festival Saraveza will be offering a special "Farmhouse Cheese Plate" put together by Steve Jones of Cheese Bar and Saraveza's wonderful kitchen staff as well as offering a food special or two that will pair well with the beers.
Taplist:
Agrarian Ales Coalescence Spring Saison
Anchorage The Tides and its Takers Triple
Anchorage Anadromous
Anchorage Rondy Brew
Block 15 2011 Provision
Block 15 2011 Demon's Farm
Block 15 Caves Saison
Boulevard Tank 7
Breakside French Fennel Farmhouse
The Bruery Sour in the Rye
The Bruery Saison de Lente
Cascade Grand Saison
Commons Myrtle
Crux Saison
Humble Saaz Saison
Jolly Pumpkin Bam Biere
Logsdon Seizeon Bretta
Logsdon Far West Vlaming
New Belgium Brett Beer
New Belgium Biere de Mars
Ommegang Biere d'Hougoumont
Ommegang Hennepin
Ommegang Art of Darkness
Pfriem Saison
Pfriem Black Saison
Pfriem Super Saison
Solera French Tickler (Grisette)
Solera Lapin Lover (Wild Kriek)
Telegraph Obscura Vulpine w/ Blackberries
Upright Byrd Stout
Upright Barrel-Aged Seven
On opening at 1pm on Saturday March 30th an initial list of 20 beers will be available at either Saraveza's bar or the Bad Habit Room with the other 11+ beers rotating in over the 2 days of the festival as kegs kick. Tickets are on sale now for $20 which includes a commemorative Farmhouse Festival glass and 10 drink tickets good for a 4oz sample of beer (some beers are more expensive and cost 2 tickets per sample). You are encouraged to purchase tickets here before they sell out. Sales day-of will be CASH ONLY if there are glasses left.
Saturday March 30th 1-10pm & Sunday March 31st 1-9pm At Saraveza, outside sidewalk and Saraveza's Speakeasy, Bad Habit Room.
About Saraveza:
Derived from the owner's name and the Spanish word for beer, Saraveza Bottle Shop & Pasty Tavern is a place to celebrate craft beer, eat well and enjoy friends and strangers alike.  We're a North Portland watering hole and craft beer convenience store w/ 250+ bottles and 9 rotating taps. Whether you're new to the brew scene and need some guidance or an old pro just looking for something rare, Saraveza's beertenders will find a flavor that works for you.