Crooked Stave Origins Bottle Release Party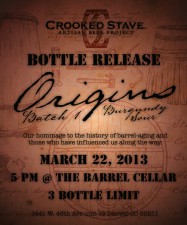 In celebration of Colorado Craft Beer Week, Crooked Stave Artisan Beer Project will be releasing our first batch of Origins bottles on March 22nd in the Barrel Cellar taproom.
Origins is our homage to the history of barrel-aging and those who have influenced us along the way. This Burgundy Sour Ale is made up of two blends, the first sitting in French Oak barrels for two years, and the second for one and a half years.
For our release, we will begin selling bottles at 5:00pm and there will be a THREE BOTTLE LIMIT per person.
Crooked Stave Brewery
1441 W 46th Ave Unit 19, Denver, CO.
www.crookedstave.com – @CrookedStave – Facebook
We look forward to seeing everyone during Colorado Craft Beer Week!