Silver City Brewery Kill-a-Keg Event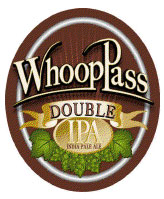 To help kick off the Strange Brewfest weekend, join us in raising a glass of Silver City Brewery's WhoopPass Double IPA! Once we tap the keg we will keep pouring till everyone has a glass or till its gone (which ever comes first).
Brew- master Big Daddy Don Spencer will then give a toast to the occasion. A commemorative glass will be included with the price of the pint and look for some Silver City giveaways as well.
Tickets available in advance at Sirens or Join us at 6pm to get your ticket and we will tap the keg at 6:30 pm
Friday 1/28 6pm At Sirens in Port Townsend
823 Water Street, Port Townsend, WA 98368
More About Whoop Pass
Whoop Pass Double India Pale Ale – Summer
Without a doubt the hoppiest mother of a brew we have ever created. More than 50 lbs. of Washington State Cascade and Columbus hops are infused, injected, or otherwise inflicted upon a single batch. Welcome to hop country! 9% ABV
Bronze Medal – North American Beer Awards – 2004
NW Brewing New – Voted Best Double IPA – 2005