Avery Brewing – duganA IPA Release Party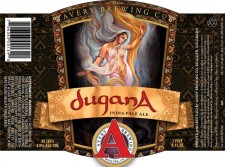 Release Party is January 18th at the Avery Tap Room
Lupulin Rapture Incarnate! As fervent devotees of hops, we found ourselves on a quest to create a transcendental IPA capable of quenching our voracious lupulin desires. Our mantra became "unity of bitterness, hop flavor and aroma." Enlightened, duganA IPA was born: A brutally bitter, dank, piney and resinous ale designed for those seeking a divine hop experience.
We will be celebrating the return of duganA IPA at the Avery Tap Room on Tuesday, January 18th from 6PM-10PM. Featuring duganA on draft in our Barrel-Aging Cellars and plenty of bombers to take home and consume during cold winter nights to come.
Look for duganA IPA to hit the shelves of fine liquor stores in Colorado and around the country near the end of this month.
5763 Arapahoe Avenue
Boulder, CO 80303