Session 99 Craft Beer Festival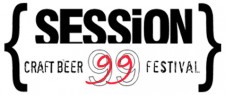 Ontario, Canada – The SESSION Craft Beer Festival was started as a finale to Ontario Craft Beer Week to bring the hard working craft breweries of Ontario and all the supporters together to celebrate craft beer. With a backdrop of burning cop cars and a torrential storm SESSION was born. True we had harsh conditions, but like true Canadians, we pushed on. We made the best of a rainy day and with great beer from across our nation, amazing food and great music; and we celebrated!
In year two with great help from our generous sponsors, notable guest speakers and die hard craft beer fans, we brought the likes of Beer legend Garrett Oliver, musicians Jason Collett, NQ Arbuckle, New Country Rehab. We were entertained by The Blue Mushroom Sirkus Sideshow (and we even had a flashmob!! ) http://www.youtube.com/watch?v=xo6UATKxBg4 Of course the big feature was the beer from Coast to Coast and from the USA that we could to sample all day long.
Our best of the fest, Spearhead Brewing Co. was sent to the Seaport Beer Festival in Halifax and the favourite Cask winners, Muskoka Brewery, represented us all at The Great Canadian Beer Festival in Victoria B.C.
This year for the first time, we bring you the "ALL-IN" price which you will be able to sample approx. 100 different beers, great food, music, comedy,and unique entertainment all under one roof! We look forward to see you on June 23rd at 99 sudbury st.in Toronto!
Don't forget to vote for the best of the fest and your favourite cask/one-off!
See you at the SESSION!
www.sessiontoronto.ca – @session99 – Facebook