Rochester Real Beer Expo 2011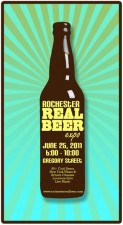 Rochester, NY – Local business owners from the award winning South Wedge neighborhood have joined forces through the Business Association of the South Wedge Area (BASWA) to bring you a street party with over 70 of the most exciting craft beers currently available.
The first annual Rochester Real Beer Expo will be held on Saturday June 25th from 6:00 PM to 10:00 PM with a pre-event VIP/Preview hour at 5:00 PM. The event will be held on tree-lined Gregory Street in the South Wedge, from Whalin Street to Bond Street. Along with great craft beers we will be serving up boutique wines, locally made cheeses and baked goods, Cajun BBQ, fresh pizza, wraps and sandwiches, locally roasted coffee, hand rolled cigars, and more.
All against the backdrop of live local musicians Joe Beard, String Theory, and Filthy Funk.
We love our neighborhood and we love good beer. We will bring to you a beer festival that captures what is exciting in the ever changing craft beer community. Too often we have found ourselves at beer festivals that simply offer all the same beers commonly available at any event. We aim to shake things up and present you with the type of beer event that we would like to attend. When you go to a tasting event you should hope and expect to have your eyes opened to new experiences. We can certainly promise you that. Our neighborhood thrives on its creativity and diversity and we will bring you an experience that reflects that.
Participating Breweries & Vendors:
Three Heads Brewing
Sly Fox
Rohrbach Brewing Co.
Dundee
Custom Brewcrafters
Smuttynose
Southern Tier
Stevens Point
Stoudts Brewing Co.
Victory Brewing Co.
Weihenstephan
Saranac
Shipyard Brewing Co.
Sierra Nevada
Tröegs Craft Brewery
Lake Placid Brewery
Long Trail Brewing Co.
Maredsous
McNeill's Brewery
Mendocino Brewing Co.
Naked Dove Brewing Co.
North Coast Brewing Co.
Ommegang Brewery
Paulaner
Great Divide Brewing Co.
Hacker-Pschorr
Harpoon Brewery
Heavy Seas
Ithaca Beer Co.
Achouffe Brewery
Dogfish Head
Duvel
Elysian Brewing Co.
Sam Adams
Blue Point Brewing Co.
Brooklyn Brewery
Santiago Cigars
Beale Street Café
Mise En Place Market
Bona Fide Coffee
Little Venice
For more info visit www.rochesterrealbeer.com