Bockfest 2011 – Cincinnati, Ohio
(Cincinnati, OH – March 4-6)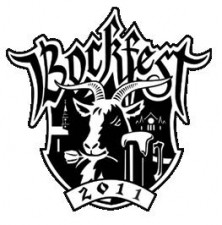 Bockfest is a celebration of historic Over-the-Rhine, Cincinnati's brewing heritage and the coming of spring.
There are several bock beer festivals that take place around the world, but Cincinnati's Bockfest is the oldest and largest in the United States. Bockfest traditionally occurs during the first weekend of March. It begins with a parade on Friday evening that starts at Arnold's Bar & Grill, Cincinnati's oldest saloon.
The parade is lead by a goat pulling a keg of bock beer and the reigning Sausage Queen. It ends at Bockfest Hall where the ceremonial first keg is blessed and Bockfest officially begins. The Hall is open throughout the weekend and features live entertainment, great food, historic walking tours, authors and breweriana, a homebrew competition, Continental Sunday celebrations and lots of delicious bock beer. Bockfest is not just limited to the Hall. It occurs in a number of participating venues in Over-the-Rhine and the central business district.
There is no admission fee for the hall and typically no admission fee for the participating venues. (If a venue charges a fee, it will be indicated on the event schedule.) A free shuttle bus runs a continuous loop around locations.
There are a number of events leading up to Bockfest that occur in January and February – or what we like to call "the Bockfest Season." These include Pretzelfest, Sausage Queen competitions, the Bockfest Print Unveiling, a bock beer preview, Precipitation Retaliation and others. Details about all of these events are posted on this website as they are finalized.
Bockfest is a grass-roots event that requires the support of local sponsors and people like you. The Ultimate Bockfest Weekend is a raffle that helps cover costs of the festival. It is also your chance to live large during Bockfest weekend, luxury penthouse accommodations through Bockfest weekend with free food and drink. Click here for tickets and details.
Beer is essential, but Bockfest is about more than beer. It is the celebration of Over-the-Rhine's rich German-American history and the neighborhood's bright future. This website is the central information location for all things Bockfest – including pre-Bockfest events, historic tours, a complete Bockfest schedule, directions, accommodations and Bockfest merchandise. The best way to ensure that you're in the know is to join us on Facebook or Twitter.