Richmond County Craft Beer Fest 2011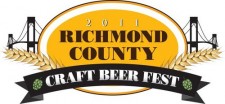 Staten Island, NY – Richmond County Craft Beer Fest (RCCBF) happens on October 22, 2011 at the Richmond County Bank Ballpark in St George, a meticulously kept stadium with a view of Manhattan and the New York City harbor as a backdrop.
RCCBF features craft breweries from the region and beyond. It partners with over two dozen top Staten Island food venues, fitted with a particular brew. Guests are treated to music by well known local bands and an up-close look at "Brewing as Art" a working steampunk sculpture by local home-brewer Mark Zappasodi and metal sculptor Scott Van Campen.
Food and drink are included in the admission price, although each venue will have edibles and items for sale as well. (We'll supply a complimentary shopping bag!) Guests are welcome to picnic on the Richmond County Bank Ballpark itself.
Buy tickets on Oct. 22 for $40 per guest. $35 In Advance. All food and beverages are included. VIP passes are offered by advance purchase only for $55. This allows entrance to the event one hour earlier, an official RCCBF event t-shirt, access to the climate-controlled sky boxes plus a special spirit and cheese tasting sponsored by the Decker Farm and first tastings of beers presented in the home-brewers competition. RCCBF is intended for a 21-and-over crowd, all guests must show valid photo ID for entry.
We will also be hosting a Samuel Adams Stein Hoisting Competition with a GRAND PRIZE of a Trip for 2 to Boston and the Sam Adams Brewery.
Don't forget to stop by the "Malt Shed" for a homebrewers competition!
For more info including a complete list of participating breweries please visit www.rccbf.com – @RCCBFest – Facebook