Pike Brewing Company hosts Pike Chocofest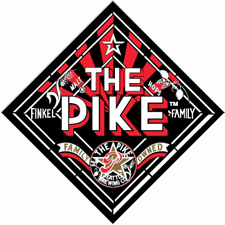 Pike Brewing Company hosts PIKE CHOCOFEST, a romantic evening of chocolate paired with wine, mead, spirits and beer.
Thursday, February 12, 2009
6:00 to 9:00 p.m.
The Pike Pub's Microbrewery Museum Room
$25 per person
R.S.V.P. to Michael St. Clair
phone: 206.812.6613
Seattle: The Visitors and Convention Bureau calls it the Emerald City; newspapers call it the coffee city; Wine Spectator called it a wine city; and Michael Jackson, the famous British beer writer, called it and Portland, "The top two craft-beer markets in the world." Everyone knows Seattle is salmon! When it comes to food, Seattle is the real big apple!
For chocophiles, Seattle is 97%! No chocolatier is more famous than Fran Bigelow, whose salted caramels are preferred by President Barack Obama. Theo in Fremont is a local gem —
a genuine bean to bar chocolate factory making chocolates that compete with the finest of Italy, Belgium and France. The number of local chocolate makers is growing: Matt Carter dreamed of crafting chocolate since graduating from culinary arts from what is now Seattle Culinary Academy. In October 2008, after he and his partner, Pike Pub veteran server John Strasinger, got married in San Francisco (Seattle is NOT the same sex marriage capital,) the two of them opened Carter's Chocolates in Port Orchard last fall. Anne Boyington's Trevani Truffles, each a masterpiece, are sold directly by the maker at farmer's markets using many items from local farmers. Seattle importer Ritrovo, itself a local legend, imports sensational BruCo Chocolate, a boutique producer in Le Marche region of Italy. Matt Vandenberg, a proud Belgian/American and owner of Bottleworks beer store in Wallingford, defends his country's honor of being the chocolate, as well as the beer, capital. Matt directly imports one of his mother country's most highly regarded chocolates, Leonidas of Brussels.
Because there are many local chocolates available, Michel and Valerie Brotman opened the ultimate chocolate store, The Chocolate Box, a cocoa cornucopia with an incredible selection of mostly local chocolate treats. There, they hold tastings and offer classes in the exploration of chocolate — an exotic, erotic, sensual, food, that is good for the soul as well as the whole.
Pike proclaims Seattle the Sensuous City by hosting PIKE CHOCOFEST, two days before Valentine's: foreplay for the big day.
Principals and/or representatives from each of the exhibitors will be on hand to sample and talk about their chocolates, wines, beers, spirits, and mead:
Carter's Chocolates 1700 SE Mile Hill Dr #255, Port Orchard, WA 98366
Husband and husband, Matt Carter and John Strasinger will present 4 different truffles made with organic, fair trade chocolate, including rich, bittersweet XXXXX Stout Truffles, 70% Columbian cocoa; round, buttery Kilt Lifter Milk Chocolate Truffles, 36% Columbian cocoa; spicy Tandem Double Truffles, a blend of 65% and half 36% Columbian cocoa; and floral, smoky Old Bawdy Truffles, a layer of hazelnut praline combined with bittersweet Columbian 70% cocoa ale gnache; all use Pike Brewing Company ales as an ingredient or seasoning.
The Chocolate Box 108 Pine Street, Seattle, WA (across from the Pike Place Market)
Owner Michael Brotman and manager, Cyndi Thomsen, are chocolate teachers schooled in the nuances of cocoa culture. They will be on hand to sample and talk abut four different Moonstruck Chocolates from Portland, Oregon: Ocumarian Truffle made with dark chocolate ganache, crafted with Venezuelan Ocumare Valley Criollo beans and infused with ancho and chipolte peppers; Milk Chocolate Gift Truffle, each wrapped with an edible bow; Grand Marnier Truffle; and Extra Bittersweet Valentine Truffle with 68% cocoa ganache.
Gelatiamo 1400 3rd Ave., Seattle, WA
There is no better ambassador of Italian food culture in Seattle than Maria Coassin of Gelatiamo. Her cafe is close enough to Beneroya Hall to have a scoop of Chocolate Gelato at intermission! Maria, who grew up in a baking and confectionery family in Friuli, will be sampling her chocolate gelato, made with a blend of 22-24% Dutch processed cocoa powder and dark, midly bitter chocolate from Latin America and Asia, and will be previewing Pike XXXXX Stout Gelato which uses Pike XXXXX Extra Stout as an ingredient.
The Pike Brewing Company 1415 First Avenue, Seattle, WA
Owners Rose Ann and Charles Finkel will be serving samples of Pike's famous XXXXX Extra Stout Floats, made with Gelatiamo chocolate and stout. Pike Stout is black with rich expresso and chocolate flavors from roasted malted barley. Pike Stout was voted best local stout in 2008 by the N.W Brewing News readers. A firkin of Pike Entire Bourbon Barrel Aged Stout has been saved and will be tapped for the occasion.
Trevani Truffles Renton, WA
Anne Boyington came to be a professional chocolatier at the urging of friends and family who fell in love with her creativity and the extraordinary chocolate treats she served them. So many people urged her on that she started her own chocolate business and moved her chocolate making from her own, to a commercial kitchen in Renton. Rather than a brick and mortar store, Anne markets her truffles through farmers markets. She orchestrates the flavors of Venezuelan El Rey 58.5% to 71.5% chocolate (less refined than European chocolate), with local, organic, seasonal flavors from hazelnuts, stout, honey, wine, peppers, fruits and even smoked organic bacon from hogs sustainably raised at Seaview Farms. Guests will be treated to Trevani Porter & Pretzel Truffles made with Pike XXXXX Stout , Noxious Chocolate with wild local honey & Scotch), White Raspberry made with Rockridge Orchards Raspberry Wine, and Sweet & Smoky (Bacon, Honey & sea salt.)
Frans Chocolates Seattle, WA (Four Seasons Hotel, University Village and Bellevue Square)
Fran Bigelow put the chew in chocolate with the salted carmels that went to the White House. It all started more than 25 years ago when Fran, introduced to the fine art of artisan chocolate in a chocolate paradise, Paris, opened her own shop in Seattle's Madison Park. Today, with two other stores and national sales, Fran's has opened the queen of candy stores: Fran's at 1st and Union in the New Four Seasons Hotel. Fran's, and Fran, are famous- sweet success for an artist who followed her dreams. Fran will be sampling President Obama's favorite treat: her best-selling and award-winning Gray and Smoked Salt Caramels, a harmonious blend of complex flavors: rich smooth chocolate, soft buttery caramel and the unexpected boldness of the gray and smoked salt, made with organic ingredients.
Theo Chocolate 3400 Phinney Ave N (Fremont) Seattle, WA.
Theo, founded in 2006 in an historic building: the old Fremont Trolly Barn that also served time as a microbrewery. Theo is the answer to a chocolate lover's dream, and the only organic, fair trade, bean to bar chocolate factory in the US. On hand to talk about the company and the chocolate making process will be Chief Operating Officer, Andy McShea. Theo imports chocolate beans from Venezuela, Ghana, Panama, Ecuador, The Ivory Coast, and Madagascar, and processes them here, sometimes adding other seasonings like curry, orange, mint, cherries, almonds, cardamom, fig, breadcrumbs, whisky and Earl Grey tea. Guests will be able to taste Theo Cocoa Nibs (the fermented but unprocessed chocolate) and a selection of chocolates ranging between 65% and 91% cocoa content.
Ritrovo Imports Seattle, WA
Who, but Ritrovo, the company that invented truffles and salt, would take two famed Italian salts with totally different mineral content and dark chocolate to create a degustation pair that exalts both salt and chocolate. Ilyse Rathet and Ron Post, founders of Ritrovo, worked with Fabio Lenci of BruCo to carefully select rare flavorful South American Trinitaro, Forastero, and Criollo cacaos with cocoa content as high as 72% to perfectly compliment the lively saltiness of each bar. Two tablets are placed side-by-side in each package: one contains the more minerally, intense Trapani sea salt, which gives a flavor like a chocolate-covered pretzel; next to this is the same dark chocolate, but this one is imbedded with Cervia sea salt, which is known for its mild saltiness and less intense minerality. This is a delightful way to taste the same chocolate in a different context and learn more about 2 of Italy's prized sea salts. Ritrovo representatives, Glen Greenwood and Joe Flaherty, will be on hand to taste "Salt Tasting Chocolate Duo" and Foglie di Mais, Ritrovo's unique corn cookies.
Click Distributing Company, Seattle, WA
Voted Craft Beer Wholesaler of the Year, Click distributes only top quality craft beer and wines from producers here and throughout the world. Drinks maven, Matt Younts, will be pouring Ommegang Chocolate Indulgence, stout infused with Belgian chocolate, brewed in the Cooperstown, NY craft brewery owned by Duvel of Belgium. Experiencing stout with chocolate on the nose, tongue and throat is a sensous experience. Matt will also pour Ficklin Chocolate Port, Ficklin's exceptional Tinta Port infused with chococlate essence. Ficklin, of Madera, CA is one of the early American boutique wine pioneers since 1948, offering ports made with authentic Portuguese grape varieties.
Claudio Corallo Chocolate São Tomé e Príncipe, Africa
This is a "single origin" from "plantation to bar" company with a very compelling story. On the tiny volcanic archipelago of São Tomé e Príncipe, the smallest and least well know country in Africa, Claudio Corallo, a tropical agronomist from Florence, Italy, lives with his family. They cultivate the descendants of the first cacao plants to arrive in Africa in 1819. British Broadcasting called Corallo "one of the best chocolates in the world." The importer Andrew Daday is based in Seattle and along with Tiffany Tomkinson, will feature the following estate grown Corallo Chocolates: 75%, 80%, Laranja (Orange), 100% and Lacouras de Cafes, three ancient varieties of "Arabica" coffee grown by Claudio with a couverture of dark chocolate. Eric Stone Specialty Sales, Inc. is a broker involved in sourcing and marketing the finest in specialty foods. Eric who is assisting Corallo Chocolates in their marketing will be on hand to talk about this remarkable company.
Merchant du Vin Corporation Tukwila, WA
MDV is America's craft beer pioneer. They introduced the beers of Lindemans Farm Brewery, an 8th generation family owned brewery in Vlezembeek, Belgium in 1978 and changed the perception of "what was beer" for many people. Every day is Valentine's Day with the sweet fruit flavors perfectly balanced by the dry, tart complexity of real lambic, Belgian ale fermented with wild yeast. Linda Sherlock and Craig Hartinger of MDV will be pouring Lindemans Framboise, Pêche, and Kriek Lambic.
Bottleworks 1710 N. 45th St. (Wallingford) Seattle, WA
In Wallingford, this " ultimate beer store" has a better selection of Belgian beers than most places in Belgium. They feature that country's Leonidas, one of Brussel's most prestigious chocolate makers since 1913 with a great tradition of quality and freshness. They use only 100% pure cocoa butter. These exquisite chocolates, a treat to the eye and palate, are properly stored and beautifully presented. Savor their signature, Manon Blanc, a light coffee-flavored fresh butter cream filling enrobed in white chocolate; and Vanilla Eve, covered with dark chocolate, decorated with a flower and filled with a vanilla ganache.
Sky River Mead Sultan, WA
Denice Ingalls of Sky River is a scholar in English Lit. As she studied, she came upon a myriad of mentions of mead, which is thought to be the oldest alcoholic beverage. After college, Denice married into a honey family and later went to work for them, ultimately becoming president. At the time she started, most mead was heavy, and in the case of Eastern European versions, slightly oxidized and not appropriate to serve with the meal. Working with Cornell University, Denice created a lighter mead, more like a white wine than a Madeira, and one that was delicious throughout dinner. Denice will be sampling Sky River Dry, and Sweet Mead and will use the occasion to premier a new mead: Sky River Raspberry Honeywine.
Noble Wine Company Seattle, WA
"All people may be created equal but all wines are not!" could well be the mantra for Noble, an independent distributor specializing in the world's great wines. Vineophile, Naomi Smith, is a N.W. Native who was introduced to the great wines, beers and foods of our area throughout her life, postponed graduate school to sell wine in Portland. That ultimately led her to her dream job, representing Noble wines. Naomi will sample and discuss two wines: Barnard Griffin 2007 Syrah Port, described by the wine maker Rob Griffin as "Riveting, unique aromas of pomegranate, orange and toffee, with hints of toasted walnuts. Rich chocolate flavors… accented by orange peel and raspberry notes… Finishes…with an encore of bittersweet chocolate and rum"; and Oregon's sumptuous Domaine Drouhin 2006 Willamette Valley Pinot Noir from the French/American father and daughter team who are on the cutting edge of this difficult to make wine.
Badger Mountain Vineyards/Powers Winery Kennewick, WA
Badger Mountain Vineyards became the first local vineyard to be certified organic by the Washington State Department of Agriculture. Wine Enthusiast named Powers one of the 50 great cabernet producers in America. Seri Sedlacek, NW Regional Sales Manager, will be on hand to pour and pontificate about 2007 Organic Badger Mountain Merlot with great complex aromas and sweet cherry, raspberry and caramel dominating the subtle spicy undertones. It gives a whole new meaning to "wine and chocolate!" The 2002 Organic Badger Mountain Port delivers a ripe fruit fragrance combined with black plum, fig and nutmeg; the answer to a chocolate lover's prayer!
Clear Creek Distillery, Portland, Oregon
Clear Creek, owned by the McCarthy family, is one of America's great small distilleries. Founded by Steve McCarthy 24 years ago, they are a genuine artisan distillery that reflects the best of the natural and agricultural resources of the Pacific Northwest. A traditional European pot still is still employed, with techniques learned in Alsace and Switzerland. The New York Times said, "Clear Creek is producing what many experts feel to be the best fruit brandies ever made in the U.S." Clear Creek sales representative, Lynn Bauer, will be pouring Williams Pear Brandy. Each precious bottle is made with 30 pounds of Williams (Bartlett) pears from their own orchards in Parkdale, Oregon. The eau-de-vie earned a Double Gold medal at the San Francisco International Spirits Competition in 2000. Lynn will also bring along McCarthy's Oregon Single Malt Whiskey, made from a fermented mash of peat-malted Scottish barley, and another brandy or two that she and Steve determine to be complimentary to chocolate.