Philly Beer Week – Hammer of Glory Relay to The Opening Tap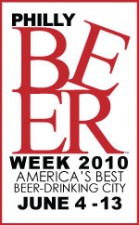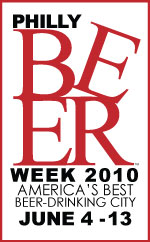 PHILADELPHIA, PA – The third-annual Philly Beer Week (PBW), which celebrates the region's vibrant beer culture, will kick off on Friday, June 4 with the Opening Tap, featuring the arrival of PBW's official keg mallet, The Hammer of Glory (HOG).  As in 2009, the HOG will get to the Opening Tap in over-the-top style, transported like an Olympic torch from The Grey Lodge Pub in the Northeast to Independence Visitor's Center via just about every conceivable means – except automobile.
"Bringing the Hammer of Glory to the kick-off party for Philly Beer Week is no small undertaking, and our participants have outdone themselves this year, dreaming up wacky new ways to get it to Opening Tap," says PBW Executive Director and noted beer author Don "Joe Sixpack" Russell.  "From hearse to horse and roller skate to wheelbarrow, the HOG will be taking a truly epic journey."
The HOG's adventure will begin at 11 a.m. on Friday, June 4 at The Grey Lodge Pub (6235 Frankford Avenue, 215-825-5357).  Planned methods of transportation will include:
11:10 a.m. – Grey Lodge Pub to Draught Horse Pub (1431 Cecil B. Moore Avenue, 215-235-1010) via Bicycle Convoy
12:05 a.m. – Draught Horse Pub to Philadelphia Brewing Company (2439 Amber Street, 215-427-2739) via Horse
12:45 p.m. – Philadelphia Brewing Company to Johnny Brenda's (1201 Frankford Avenue, 215-739-9684) via Kenzinger Express Train Kinetic Sculpture
1:10 p.m. – Johnny Brenda's to Yards Brewing Company (901 North Delaware Avenue, 215-634-2600) via Trophy Bike "Bar on a Bike"
1:35 p.m. – Yards Brewing Company to Delilah's Gentleman's Club (100 Spring Garden Street) via Dog-Drawn Wagon
1:55 p.m. – Delilah's Gentleman's Club to Standard Tap (901 North 2nd Street, 215-238-0630) via Delilah's Girls
2:20 p.m. – Standard Tap to The Foodery (837 North 2nd Street, 215-238-6077) via Zip Line
2:35 p.m. – The Foodery to The Institute (549 North 12th Street, 215-765-8515) via Tricycle
3:00 p.m. – The Institute to The Belgian Cafe (2047 Green Street, 215-235-3500) via Wheel Barrow
3:25 p.m. – The Belgian Cafe to Kite and Key (1836 Callowhill Street, 215-568-1818) via "The Reckoner" Three-Wheel Giant Kinetic Sculpture
3:50 p.m. – Kite and Key to Nodding Head Brewery & Restaurant (1516 Sansom Street, 215-569-9525) via Hearse
4:25 p.m. – Nodding Head Brewery & Restaurant to 12 Steps Down (831 Christian Street, 215-238-0379) via Hand Truck Keg Throne
5:10 p.m. – 12 Steps Down to Bella Vista Beer Distributors (755 South 11th Street, 215-627-6465) via Running Rocky Look-Alike
5:40 p.m. – Bella Vista Beer Distributors to Hawthorne Cafe (738 South 11th Street, 215-627-3012) via Hand Truck
5:55 p.m. – Hawthorne Cafe to Varga Bar (941 Spruce Street, 215-627-5200) via "Growler Power"
6:15 p.m. – Varga Bar to Brauhaus Schmitz (718 South Street, 267-909-8814) via Varga Pin-Up Girls on Roller Skates
6:35 p.m. – Brauhaus Schmitz to Opening Tap (Independence Visitors Center) via Hostess Station "Chariot," pulled by Dirndl-Clad Waitresses, accompanied by the Fishtown Beer Runners
7:05 p.m. – Arrive at Opening Tap
8:00 p.m. – Swung by Mayor Nutter to tap the first keg of PBW2010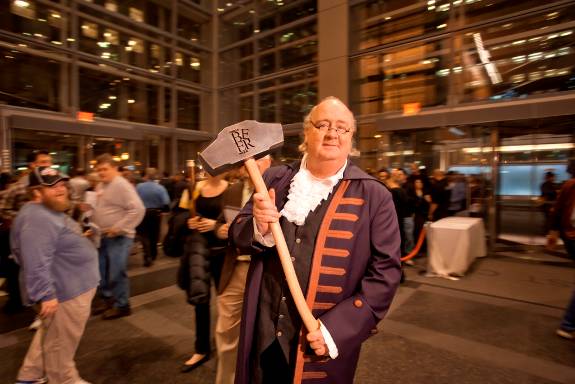 PBW is an annual celebration of beer culture that includes tastings in cozy neighborhood taprooms of locally crafted brews, educational offerings such as guided tastings and lectures and prix-fixe beer-pairing dinners across the region.  The largest event of its kind in the nation, it has spawned a host of similar events across the country and remains, in its third year, the premier beer festival in America, set in "America's Best Beer-Drinking City."  Over 180 bars, restaurants and breweries will host more than 950 events during Philly Beer Week 2010.
For general information about PBW2010, including the ever-expanding schedule of events and list of participants, please visit www.phillybeerweek.org.