Omaha Beer Fest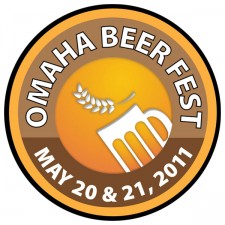 Nebraska Beer Lovers to Sample Craft Brews during American Craft Beer Week at the Inaugural Omaha Beer Fest
Omaha, NE – The largest craft beer festival in Nebraska will debut in Omaha this Spring. The inaugural Omaha Beer Fest takes place Friday and Saturday, May 20 and 21, during American Craft Beer Week at the Lewis and Clark Landing.
Over 100 unique craft brews and imports will be available for tasting from 25 breweries, including Goose Island Beer Co (Chicago), New Belgium Brewing Co (Fort Collins, CO) and Nebraska's own Empyrean Brewing Company. Brewers and representatives from the breweries will be on hand to sample their crafts and meet their fans. "New Belgium is excited to be part of the Omaha Beer Fest and happy to help support great craft beer in Nebraska," says Ron Nelson, Beer Ranger for New Belgium Brewing Co.
Beer-related seminars and beer and food pairings will be offered throughout the two day event, including Beer & Cheese Pairing, Cask Ale Seminar, and Craft Beer 101. "Whether you are a novice or a connoisseur, if you enjoy craft beers, this festival is what you've been waiting for," remarks Jen Kocher, festival producer for Urban Events.
To kick off the festival weekend, Goose Island Beer Co is hosting a Spiegelau Beer Classics seminar, a comparative beer glass tasting, at the Old Mattress Factory on Thursday, May 19. "Nebraska has an enthusiastic beer community," notes Paul DeVries of Goose Island Beer Co. "We are excited to attend the Omaha Beer Fest, sample our award-winning brews and participate in educating our fans about the proper glass for our tasty craft beers."
Other festival sponsors include Omaha Magazine, DocuLynx, Inc., JM Web Designs and Nebraska Beer Blog. "Craft beer awareness in Nebraska has grown in recent years, partially because of festivals like this one celebrating artisanal beers," says Nick Spies of Nebraska Beer Blog. "Our partnership with Omaha Beer Fest reinforces our message: Quality brews for all Nebraskans."
Beers sampled at the festival will be available for sale on-site at the festival. Live entertainment and local food vendors will also be on-site. Tickets will be available beginning April 1, 2011.
Omaha Beer Fest is produced by Urban Events, Inc. Urban Events also produces the annual Riverfront Wine Festival and will introduce Omaha Restaurant Week later this year.
Visit www.omahabeerfest.com for more info