Oakshire Brewing's 10 Beers for 10 Years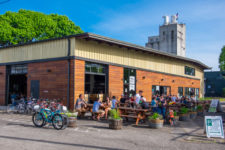 (Eugene, OR) – The Oakshire Brewing team is excited to announce our 10th anniversary celebration scheduled for this October: "10 Beers for 10 Years." To commemorate this exciting milestone, the Oakshire crew has put together ten days of events and beer releases, at the Oakshire Pub and around Eugene, running October 6th through October 15th.
"It's an exciting time for everyone in the Oakshire Family," says Oakshire's co-founder and CEO, Jeff
Althouse. "In our first ten years we've grown from a very modest startup planning to brew only an
Amber Ale for distribution on draft in Eugene, to an established artisanal brewer of nearly every beer
style imaginable – and all at an extremely high quality mark."
In celebration of Oakshire's vibrant history, ten different beers will be released – one per day for ten days and each inspired by a specific year of the ten year history. The beers released will range from one-time only Pilot beers inspired by previous year's recipes, to Vintage barrel-aged beer from Oakshire's cellar library, to an annual Core Seasonal. Beers will be released sequentially by year of inspiration and introduced at the specific event before being released to a limited number of beer pubs across Oregon.
Tyler West, Oakshire's Director of Brewing Operations, notes "Our tenth anniversary offers us as brewers
the opportunity to take a look back at the past ten years, and release something special and representative of each one of those years. In addition to popular Core and Seasonal beers, Oakshire has brewed some pretty incredible and unique Vintage beers throughout its history – and our Tenth Anniversary Cuvee, "X:10th Anniversary," is nothing less than that. A blend of three beers all aged in American White Oak Wine barrels, we selected an exceptional combination of casks of beer to be a part of this blend."
The main event will be a celebration on the actual 10th anniversary of Oakshire Brewing's inception,
October 12th, 2016, at Oakshire's Public House from 5-10pm – featuring food pairing options from local
chefs, live music, and the release of Vintage beers and tappings from earlier in the week. The event is
open to the public.
Events over the other nine days will be featured at Oakshire's Public House and other locations around
Eugene, and will include a pop-up at the Public House with chef Tony from De Nang on October 9th and a
culminating party on the 15th at the Pub: 10 Beers for 11 Hours, as well as events at Beer Stien, 16 Tons, the Tap & Growler, First National Taphouse, Cornucopia on Fifth Avenue, and Filling Station West.
Additionally, a raffle to raise funds for charities the Oakshire family partners with in the Eugene area will run throughout the 10-day period with a grand drawing at the Pub on the final day, 10/15.
A full calendar of events, locations and beer releases can be found on the new Events section of
Oakshire's website at www.oakbrew.com/events/10th-anniversary.
About Oakshire Brewing: Oakshire Brewing of Eugene, OR, is a community inspired small batch
brewing company founded in 2006. Oakshire is locally owned, employs 25 people, and produces a wide
variety of beers through its distinct brewing programs. Our Core, Pilot, and Vintage beer programs allow
us to brew an array of beer styles at an extremely high level of quality. These beers are distributed
throughout the Pacific Northwest. Oakshire's Public House and barrel-aging facility are located at 207
Madison Street in Eugene; the Public House is open daily from 11am to 10pm. The brewery is located
nearby at 1055 Madera Street with private tours by reservation on the first and third Saturday of each
month – call (541)654-5520.
www.oakbrew.com – @Oakshire – facebook