Cambridge Brewing's Great Pumpkin Festival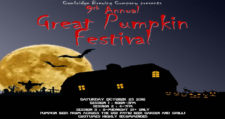 (Cambridge, MA) – Ticket sales for Cambridge Brewing's Great Pumpkin Festival begin at 2pm today and are only available online!
To purchase tickets, follow this link to the ticket ordering and registration page.
**This link will bring you to the main Festival page. Each session has its own event listing. Just click the link to the session you'd like to attend.**
Once inside the festival, as always, you must use tickets to purchase pours of beer and food from the grill. Beer and grill tickets are 4 for $6. There will be no indoor dining menu this year; all food will come from the grill.
All attendees must be able to present valid ID at the door to drink. Sessions 1 & 2 are all ages. Session 3 is exclusively 21+
Cheers!
9th Annual Great Pumpkin Festival
Saturday, October 29, 2016
Session 1: Noon to 3:00 – $30 Admission
Session 2: 4:00 to 7:00 – $30 Admission
Session 3: 8:00 to Midnight – $35 Admission
Admission includes Limited Edition pint glass and first 6 beer and food tickets
This is a ticketed event
This event takes place rain or shine
Costumes are strongly encouraged
www.cambrew.com – @CambridgeBrew – facebook