Night Shift Funk'd Porter Bottle Release Tomorrow
Everett, MA – Night Shift Brewing is very excited to announce the release of our 2nd Funk'd Series beer – Funk'd Porter, a 100% brett-fermented porter aged in oak barrels. This one sips rich and fruity, with notes of tart berry, chocolate, and a hint of bourbon. Keg tapping & bottle release is scheduled for this Thursday (8/14) at 5pm (375ml bottles, $9/bottle, limit 4/person).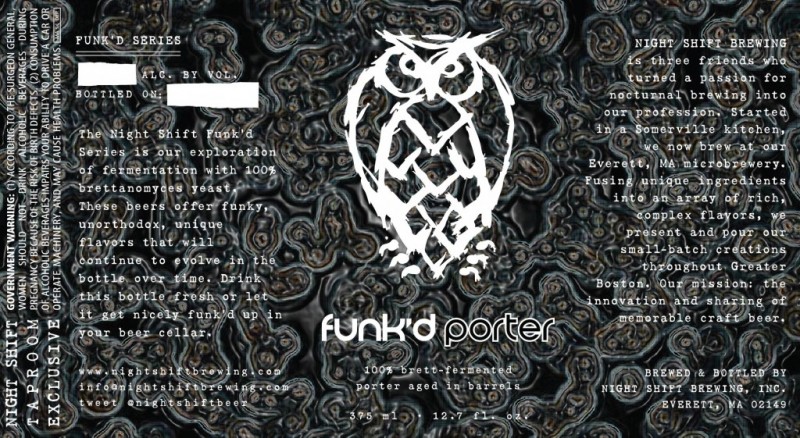 Rolling into the weekend, we have Munch Mobile here on Friday, and fresh, made-to-order liege waffles from Back Bakery on Saturday night. We'll also be celebrating Razors Barbershop's 10 year Anniversary on Sunday with raffles, giveaways, food, music and, of course, lots of beer – everyone's invited!
NEXT WEEK & BEYOND:
Canning Extravaganza!
Next Tuesday, August 19th, we'll be canning two beers – Whirlpool and the first batch of our new Rotating IPA Series: Morph. Experimenting with different combinations of hops and malts each batch, the Morph series showcases our brewery's variety of always morphing India Pale Ales. This allows us to use the best hops accessible to create the freshest canned IPA possible. The first Morph IPA to be canned will be a re-brew of our Constable IPA. Mark your calendars, cause there's gonna be a whole lotta hoppy, canned goodness for sale! Square Deli will be here again with their Grill Cart, cooking up sausages & dogs with an awesome topping bar and fresh cut & cooked frites!
Somer Weisse Release Party on August 21st
It's back and ready to hit the draft lines and shelves! We'll be celebrating the occasion with Boston Bonbon, who will be making custom French macaroons with this very batch of Somer Weisse! Come ring in the next seasonal sour with pours, bottles and tasty treats.
www.nightshiftbrewing.com – @NightShiftBeer – facebook