Karl Strauss Announces B.A.M. #2 on August 23, 2014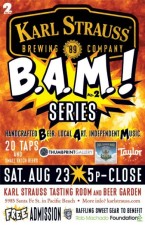 (San Diego, CA) – August 18, 2014– Hot off the heels of its wildly successful inaugural B.A.M. event, Karl Strauss is gearing up for B.A.M.! #2 on Saturday, August 23, 2014. This free event will take place at the Karl Strauss Tasting Room and Beer Garden in Pacific Beach from 5pm to closing and will feature live music, curated art, handcrafted beer and food. "We are bringing together some of our favorite artists for a truly unique, collaborative experience that is not only fun, but supports worthwhile causes," says Matt Rattner, President and Cofounder, Karl Strauss Brewing Company. "B.A.M.! is our way of throwing a great party with purpose. It gives us the opportunity to shine a light on emerging local talent and help give exposure to inspiring causes like the Rob Machado Foundation."
Karl Strauss' B.A.M.! event series brings to life the company's longstanding core value of caring for its local community, environment, and supporting independent arts, music, and nonprofits. The second installment of this one-of-a-kind series will benefit the Rob Machado Foundation, established in 2004 to support environmental programs for youth. Karl Strauss will host a raffle with 100% of proceeds going directly to the cause, as well as a portion of beer proceeds from the evening. The awesome prize list includes a donated, hand painted acoustic guitar from Taylor Guitars, autographed Rob Machado gear, and a private acoustic session by the Paul Cannon Band.
In addition to supporting a good cause, fans are encouraged to check out the amazing local art curated by Thumbprint Gallery, including two dozen hand-painted growlers for sale. DJ Ori will be spinning his jams, getting the crowd ready for a live set by Paul Cannon Band—best known for their folk surf rock and pop, and currently nominated for San Diego Music Awards' Song of the Year, Thinking Bout You. For grub, the Drunken Grill food truck will be onsite slinging sausages and sliders to pair with Karl Strauss' award-winning 20-tap beer lineup. Admission is free, so if you missed the first one, this is your chance to totally redeem yourself. For more information about the B.A.M.! Series, visit www.karlstrauss.com/events. Share it. Cheers.
B.A.M.! Series #2 Event Details:
Date: Saturday, August 23, 2014
Time: 5pm-close
Location: Karl Strauss Tasting Room, 5985 Santa Fe Street, San Diego, 92109
Admission: Free
Band: The Paul Cannon Band
Artists: Thumbprint Gallery
All proceeds benefit The Rob Machado Foundation
B.A.M.! Series #3 Event Details:
Date: Saturday, November 22, 2014
Time: 5pm-close
Location: Karl Strauss Tasting Room, 5985 Santa Fe Street, San Diego, 92109
Admission: Free
Band: TBD
Artists: TBD
###
About Karl Strauss Brewing Company
Karl Strauss Brewing Company has pioneered the San Diego beer scene since 1989 with innovative beer releases like Big Barrel IIPA, Wreck Alley Imperial Stout and Mosaic Session Ale. The brewery has won 64 medals over the past four years and its Red Trolley Ale is one of the most award winning beers in the world. The company is currently ranked #41 on the list of the country's top craft breweries with sole distribution in California. 2014 is on pace to be another exciting year of double-digit sales growth, with the main brewery tasting room and newly remodeled brewery restaurant in Sorrento Mesa now open. For more information visit www.karlstrauss.com or call the brewery at (858) 273-2739. Share it. Cheers.
About Rob Machado Foundation
The Rob Machado Foundation (RMF) is a California based 501c(3) non-profit private foundation. Founded in 2004, RMF was created to support charities dedicated to environmental programs worldwide. Our primary mission is to provide funding and initiate educational programs focused on helping children understand their contribution towards a healthy earth. http://robmachadofoundation.org/about/