New Holland Brewing Co. Hatter Family Release & Street Party is Set for June 8, 2013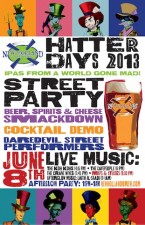 (Holland,MI) – Every year New Holland Brewing Co. goes a little mad and releases an entire family of IPA-inspired craft beers and spirits to celebrate their anniversary and their flagship brew – Mad Hatter IPA. This year will be no different, except this June 8th  they will be introducing a new member to the family – Michigan Hatter, a pale ale featuring Michigan-grown Cascade hops and local barley.
"Hatter Day is a perfect time to kick off summer and our newly-renovated beer garden," says Partner Dave White. "But it's also a good event for all ages and to introduce people to our community of Holland and all the downtown businesses who are doing great things here."
The Street Party takes place on College Street (between 8th and 9th streets) on June 8 from 4p-11p and continues on at the after party inside from 11p-1a.
The free event includes live music from acts like Maps & Atlases out of Chicago and the popular Michigan group – The Crane Wives. Guests will also enjoy the Daredevil Circus, a Beer/Spirits/Cheese Smackdown, Cocktail Expo and food specials. A newly-designated Stop & Taste area will be created where people can enjoy lounge chairs and lawn games in a technology-free zone supporting the company's new Stop & Taste campaign that encourages everyone to break the rhythm of a life that's too fast and enjoy the moment in front of them.
"This is a really special time for us," says New Holland president Brett VanderKamp. "So much collaboration and hard work goes into developing, brewing, bottling, kegging and distributing these brews. It's a time for us all to celebrate the amazing tradition of craft brewing and Mad Hatter – the IPA that helped us get where we are."
The guests of honor are the eight Hatter Family beers including; Mad Hatter (the patriarch IPA), Imperial Hatter (Imperial IPA), Black Hatter (Black IPA), White Hatter (Belgian-style White Pale Ale), Rye Hatter (Rye IPA), Oak-Aged Hatter (Mad Hatter aged in oak barrels), Farmhouse Hatter (Farmhouse IPA) and their newest member of the family – Michigan Hatter (IPA made with Michigan-grown hops and barley). Plus the extended spirits family and the beloved Hatter Royale (white whiskey steeped in Centennial hops.)
SCHEDULE OF EVENTS:
4:00PM – Street Party kicks off (College St. btwn 8th and 9th Streets); Daredevil Circus acts throughout
4:15PM – The Koh Kohs (live music)
4:45PM – Beer/Spirits/Cheese Smackdown (on Mezzanine. Tickets $10*)
6:00PM – The Cavepeople (live music)
6:15PM – Cocktail Demo (on Mezzanine. Tickets $5*)
7:45PM – The Crane Wives (live music)
9:30PM – Maps & Atlases (live music)
11:00PM – Street Party ends and After Party begins (live music indoors – Laith Al-Saadi)
*Limited seats available. Tickets for sale now at the Pub.
About New Holland Brewing Co.
New Holland Brewing Company's deep roots in the craft industry go back to 1997. Our role as an integral member of the artisan approach is something we take seriously, yet engage lightheartedly. We believe the art of craft lives in fostering rich experiences for our customers, through creating authentic beer, spirits and food while providing great service. Recognized for our creativity and artistry, our mission to improve the lives of craft consumers everywhere is seen in our diverse, balanced collection of beer and spirits.
New Holland brews and distills at two locations in Holland, Michigan: our production facility on the north side and our Pub & Restaurant in downtown Holland. The restaurant welcomes guests seven days a week and production tours are on Saturday afternoons. We welcome visitors and locals alike, and appreciate the opportunity to share our artisan approach through warm hospitality and enriching education.
With just under 150 employees, New Holland Brewing Co. sells its beer and spirits across a growing regional landscape, while anchored in the upper Midwest. In 2012, our production facility underwent substantial development including the tripling of our brewing capacity through outdoor fermentation, the addition of a centrifuge and the expansion of our Dragon's Milk cellar. In 2013, the company is expanding its distilling capabilities, renovating the downtown Holland Pub & Restaurant and focusing on the integration of Michigan agriculture; hops, wheat and barley, into several new and existing brands. Follow New Holand on Twitter