Macleod Ale Brewing 3rd Anniversary Cask Ale Fest
(Van Nuys, CA) – In celebration of their three-year anniversary, San Fernando Valley craft brewers MACLEOD ALE BREWING CO. will commemorate the occasion by hosting a cask ale festival at their Van Nuys, Calif. taproom on Sunday, June 18 from 12-5 p.m.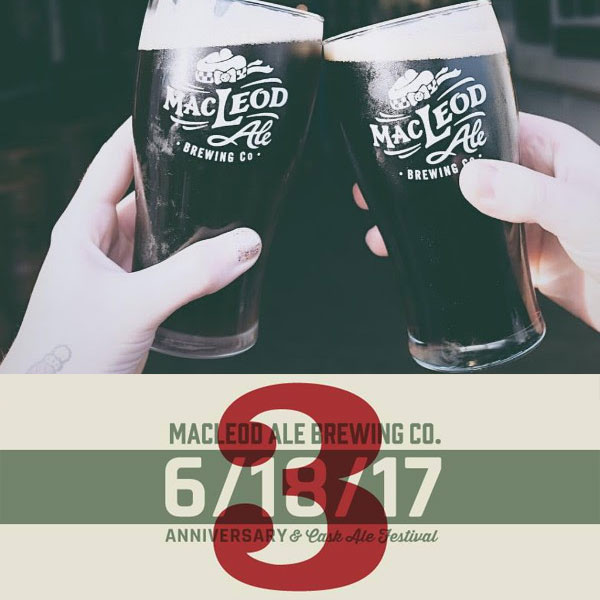 In addition to offering twelve Cask Marque accredited pours from MACLEOD ALE's menu, the festival will feature over 20 cask brews from some of Southern California's most acclaimed breweries and a special limited-edition series of staff-brewed beers!
Guest breweries include (in alphabetical order): 8one8 Brewing, Beachwood BBQ & Brewing, Boomtown Brewery, Bravery Brewing Company, Brewyard Beer Company, Cellador Ales, Coronado Brewing Company, Dry River Brewing, Enegren Brewing Company, Five Threads Brewing Company, Hand Brewed Beer, Highland Park Brewery, Inland Wharf Brewing Co., Iron Triangle Brewing Company, Ladyface Ale Companie, Pocock Brewing Company, Rob Rubens Distilling & Brewing, San Fernando Brewing Co., Scholb Premium Ales, Transplants Brewing Company, Verdugo West Brewing Co., Wolf Creek Brewing Co., and Yorkshire Square Brewery.
Aside from the tastings, festival attendees will be able to view panel discussions from some of the craft brewing industry's top executives and tastemakers. A list of confirmed panel guests and discussion topics will be announced on the festival's event page HERE. Traditional British pub food will be served throughout the day from local Bullseye Pub Fare and live music, darts & board games will commence throughout the day.
TICKETS ARE ON SALE NOW AT macleodale.ticketbud.com/3rdanniversary.
Ticket options range from FREE to $50, proceeds of which will be donated to benefit the Pasadena Scottish Pipes and Drums Corp. Please note under California State Law you must be 21 years of age or older to purchase and/or consume beer.
VIP Tickets – $50: One hour early admission (12pm-5pm), UNLIMITED POURS*, Limited Edition Anniversary Pint Glass & Bottle Opener. *As allowed per California State Law*
GENERAL ADMISSION / NO FRILLS 10 – $35: Regular festival admission (1pm-5pm) + 10 Drink Tickets.
GENERAL ADMISSION / NO FRILLS 5 – $20: Regular festival admission (1pm-5pm) + 5 Drink Tickets.
GENERAL ADMISSION / DESIGNATED DRIVER – FREE: Regular festival admission (1pm-5pm). A special wristband will be provided, attendee must not consume any beer. Water & sodas will be available for purchase.
MACLEOD ALE is located at 14741 Calvert Street, Van Nuys, CA 91411. Street parking is available.
www.macleodale.com – @MacLeodAle – facebook