Lots of Collaboration Going on For Philly Beer Week 2014
PHILADELPHIA, PA – On Friday, May 30, Justin Low, Head Brewer at Dock Street, and Anne-Catherine Dilewyns, of Brouwerij Dilewyns, will debut the official collaboration beer of Philly Beer Week (PBW) 2014:  Philly Tripel, a Belgian Abbey Tripel brewed with organic acacia honey from Belgium.  Philly Tripel, a limited release brewed exclusively for #PBW2014 and imported to the United States by Vanberg & DeWulf, will be available at Opening Tap, in the PBW Beer Garden and at Dock Street Brewery, which will be hosting an exclusive Brew Day with Anne-Catherine starting at 10 a.m. on Tuesday, June 3.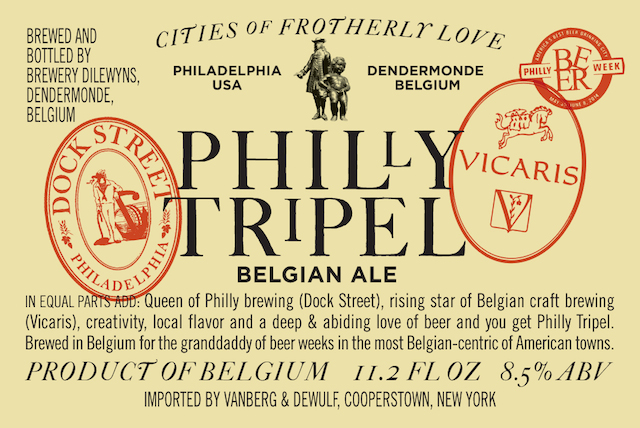 The Philly-Belgo collaboration began this past February when Low and "Win a Trip to Belgium" Raffle Winner Daniel Neuner, a 24-year-old home brewer and fine art photographer from Cherry Hill, NJ, traveled to Dendermonde, Belgium, for a hands-on collaboration with Anne-Catherine Dilewyns, Belgium's youngest brewer and one of three rising female brewers in the world.  Philly Tripel, which clocks in at 8.5% ABV, will be sold in 11.2-ounce bottles and available at many participating PBW bars and restaurants.
"We've done our best to keep this extra special collaboration a secret up to this point,"  says PBW Executive Director Kristine Kennedy.  "Opening Tap will present the first opportunity for anybody to sample this creative beer – in fact, I haven't even had a chance to raise a pint!  We hope everyone enjoys drinking it as much as the brewers enjoyed making it."
In addition, seven other special collaboration beers will debut and be available throughout #PBW2014, including the latest installment of Brotherly Suds.  This year's edition, Brotherly Suds V, was brewed at Victory Brewing Company, with Flying Fish, Yards Brewing, Sly Fox, Iron Hill, Nodding Head and Earth Bread + Brewery participating in the brewing process.
Other collaboration beers include:
·         Free Will also worked with Philly Philms, the production company behind the movie "Beeradelphia," to create Dry Irish Stout "William"
·         Nodding Head and Fat Head's are working together on "something hoppy"
·         Standard Tap and Sly Fox combined forces on a German-style pilsner
·         City Tap House and Yards introduced Just Off Walnut, a Belgian Brown Ale
·         Monk's Cafe and Dogfish Head Brewpub collaborated on Blood Moon, a pleasantly smoky, rye red ale
Philly Beer Week 2014 will be held from Friday, May 30 until Sunday, June 8.  PBW is a 10-day celebration of "America's Best Beer-Drinking City," and kicks off on the first Friday in June annually.  Established in 2008, it's the largest beer celebration of its kind in the United States, featuring hundreds of festivals, dinners, tours, pub crawls, tastings and meet-the-brewer nights throughout greater Philadelphia.  PBW highlights the region's diverse beer scene – its world-class breweries, neighborhood taverns, trend-setting restaurants and rich beer culture and history.
For more information about Philly Beer Week, including the ever-expanding schedule of events both during PBW and throughout the year, a list of participants and other details, please visit www.phillybeerweek.org, follow them on Twitter (@PhillyBeerWeek) and like them on Facebook.