The 411 On Smog City Brewing's Anniversary Event
Torrance,CA – Smog City Brewing is expecting to have a fabulous day filled with extraordinary beers and wonderful friends. Come and stay as long as you like, enjoy the community that craft beer fosters and savor these rare offerings. We thank you in advance for being responsible and making sure that you and your friends get home safely.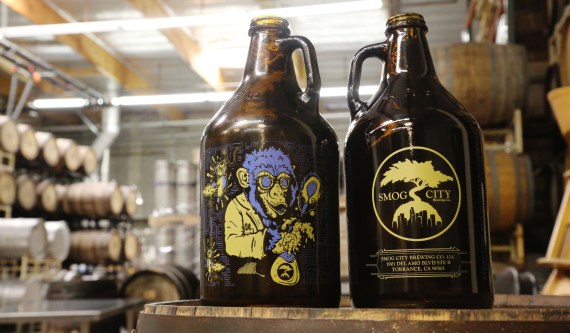 Sometimes it's nice to dip your toe into the water BEFORE you actually dive in. We know that and we hope this post will help you take full advantage of our Anniversary Event this Saturday, May 17th!
Smog City's Anniversary Event
Saturday May 17th, 2014
Smog City Taproom
1901 Del Amo Blvd Ste B Torrance, CA 90501
Facebook Event Page
VIP Session-11-1pm
Tickets must be purchased and we are very close to selling out.
To purchase tickets, please visit brown paper tickets
http://www.brownpapertickets.com/event/670925
VIP Session includes early entrance and access to the most limited beers, a special edition growler filled with Anniversary Beer, 5 taster pours and unlimited Little Bo Pils, Coffee Porter and MakeOut Session til 1pm.
We will hand out taster tickets for the VIP's and you can pick up the included growler on your way out! They will be filled just before we open our doors for ultimate freshness but will also greatly reduce your wait!
General – 1pm-8pm
We have multiple bars planned to speed up your access to all of our beers. Plan on filling your Anniversary Beer growler at the Brewer's Bar or Main Bar.
We WILL be offering growler fills all day. At the main bar, we'll have a dedicated growler filling person to speed things up. Please bring in your Smog City growler or purchase one of new ones. Sorry, we do not fill growlers that are blank or from other breweries.
Are Those Growlers Special?
Our Limited Edition Growlers are ultra special! We ordered a limited number of them and that is all there will be now and forever. Next year will be another year, another design…so be sure to get your hands on these little honeys before they run out! We will also be selling Special Anniversary T-shirts based on this awesome design! Ask your beertender for available sizes.
Beers Available For Growler Fills
Anniversary Beer – Strong Saison brewed with Merlot
Little Bo Pils
MakeOut Session Pale
Hoptonic IPA
Sabre-Toothed Squirrel
Coffee Porter
L.A. Saison
What's Pouring At Each Beer Station?!
The Main Bar (Located at the Front of House!)
Anniversary Beer- Strong Saison brewed with Merlot – growler fill avail
Quercus Circus – Sour Barrel-Aged Belgian Blonde (4 oz pours only)
The Tempest- Sour Barrel-Aged Red Rye (4 oz pours only)
Hoptango IPA- Double Dry-Hopped Hoptonic with Mango
Chip Shot Coffee Porter
Fennel of Love – 80 Shilling Scotch Ale brewed with hand-picked fennel flowers
Plum Saison
Peach Saison
The Nothing – Double Chocolate Imperial Stout
Little Bo Pils- growler fill avail
MakeOut Session Pale – growler fill avail
Coffee Porter – growler fill avail
Sabre-Toothed Squirrel – growler fill avail
Hoptonic IPA – growler fill avail
L.A. Saison – growler fill avail
The BriteTank Bar (Aka The Hops Bar) Located next to the 30 and 60 bbl brite tanks
CASK of Double Dry-Hopped Sabre-Toothed Squirrel (our very first Squirrel cask!)
Hoptango IPA- Double Dry Hopped Hoptonic w/ Mango
Mai Tai HopT- Double Dry Hopped Hoptonic IPA w/ Coconut
The Brewer's Bar (Located near the brewhouse near the back of the brewery)
Bourbon O.E.- Bourbon Barrel Aged Olde English Barleywine
Bourbon Imperial Porter
Black Currant Saison
Anniversary Beer- growler fills available at this station!
Food
We will have Dogtown Hotdog food truck for the event! They will be parking in the loading zone in front of our brewery. PLEASE remember NO beers can leave our building per ABC law so leave your beers inside when you go out to order and pick up your food.
As always we will have chips and beef jerky for sale and you are welcome to bring your own food in.
PARKING!
Please do not park in Doggie Daycare's parking spaces. We have approval from the businesses to the west of us. You are welcome to use their parking spaces both in front of and behind their building. Also available is street parking on the south side of Del Amo Blvd and up and down Gramercy Pl.
Respect Our Neighbors!
When you are leaving the brewery, please be respectful and keep your voices and car radios turned down. Doggie Daycare is a 24 hour boarding facility and we want to play nice with our puppy-loving friends.
See you at the Brewery!! And thank you so much for welcoming us with open arms (and mouths) into the local beer community! We're honored to be apart of it!
www.smogcitybrewing.com – @SmogCityBeer – facebook