Local Breweries Join Forces For American Craft Beer Week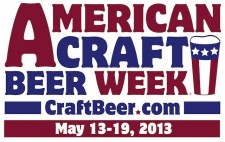 Fort Collins, CO – On May 13th, 2013, American Craft Beer Week, a celebration of the more than 2,400 small and independent American craft brewers, will kick off around the country. The brewers of Fort Collins have once again united for the weeklong celebration over a shared passion for craft beer in the spirit of camaraderie.
Undaunted by a challenge, Fort Collins' craft brewers opted for a unique format for collaborating. The 2013 Collaboration began with the local craft brewers forming nine teams of three and deciding on one recipe containing 90% of same malts for each brew. The remaining 10% malt, hops, yeast and spices were selected by each brewing team. The result is nine very unique beers from one common starting point, much like the brewers that crafted them.
The various versions of this year's Fort Collins Collusion will be on tap during American Craft Beer Week (May 13-19). Fort Collins beer enthusiasts are encouraged to come out and try the different brews at each brewery throughout the week.
On Monday, May 13th, the brewers will be meeting at Black Bottle Brewing Co. for a group toast. All nine beers will be available side by side for one evening only. Join Fort Collins' Craft Brewers in celebration with their Collaboration Confabulation!
For more information on American Craft Beer Week, please visit www.craftbeer.com – @craftbeerdotcom – facebook