LA Beer Week 2012 – South Bay Shuttle Bus Tour September 22, 2012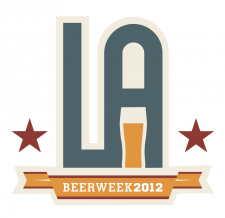 As part of LA Beer Week, and in the spirit of unity, four of South Bay's finest brewing establishments have collaborated to bring you a shuttle bus, the likes of which has never been seen. Well.. at least not in LA County.
Leave your car at home, and enjoy the fermented delights of El Segundo Brewing Co., Beachwood BBQ and Brewing, Monkish Brewing, and The Brewery at Abigaile all in the same day! Grab a Blue House Citra Pale in El Segundo, hop on the bus, and half an hour later grab some small bites at Hermosa's newest gastropub and brewery. Followed by a beer flight of the Belgian-esque ales at Monkish, and finish your day with a huge pile of house-made BBQ and some of Beachwood's newest libations. Then make it back to El Segundo for a preview of the LA Beer Float Showdown. Or.. just make up your own schedule!
From 1pm – 10pm we will be running a continuously looping shuttle bus with the help of LA Craft Beer Tours between all four locations. Busses will start at El Segundo and Beachwood at 1pm sharp. Buses will pick up and drop off at each location about every hour. So just hop on, and hop off wherever your heart desires. And.. you can start anywhere you like! There will be ample buses so if you miss one, you should still be able to hit every spot before the end of the day.
The route will be as follows:
El Segundo, Abigaile, Monkish, Beachwood, Monkish, Abigaile, El Segundo ..and so on. Full schedule attached.
South Bay has nurtured a craft beer culture that may still be in its formative years, but that doesn't mean that we don't have some fabulous beers to offer. Come and see for yourself.
Each Brewery will have something special for participants.. so mark you calendars, and buy your tickets! Plus.. Tickets are only $15.. and you can ride all day! Tickets on Sale at 5pm on Saturday, September 8.
For tickets.. southbaybreweryshuttlebus.bpt.me
You MUST RSVP for this event! Non-ticket holders will not be allowed on the bus, and we will not be selling tickets day of. Sales end Friday, September 21st at midnight. Plus.. there are less than 150 left, so don't delay. Get your tickets now!
Locations and Details
El Segundo Brewing Co.
140 Main St. El Segundo, CA 90245 310-383-2329 www.elsegundobrewing.com
El Segundo will have $18 "you pick it" on new growlers, or $3 off refills. Local favorite Beach Mex will be in house with tacos, and Sweet Rose Creamery will be giving sneak preview of their ideas for the LA Beer Float Showdown. The second batch of the ever coveted Double IPA, Two 5 Left, will also be on the taps and available for growler fills.
The Brewery at Abigaile
1301 Manhattan Ave Hermosa Beach, CA 90254 310-798-8227 http://abigailerestaurant.com/brewery/
Abigaile is offering a free pint glass to the first 50 people through their doors, as well as $3 off growlers and T-shirts.
Monkish Brewing Co.
20311 S. Western Ave. Torrance, CA 90501 310-295-2157 www.monkishbrewing.com
Monkish will be offering $3 off growler fills, and discounted flights in addition to pouring Sueño Para Los Angeles, a prickly pear beer, part of the LA Beer Week theme this year. Click for those details. Tours will also be available.
Beachwood BBQ and Brewing
210 E. 3rd St. Long Beach, CA 90802 562-436-4020 www.beachwoodbbq.com
Beachwood will be offering $3 off growler fills, $1 off house beers, Happy Hour food menu, and brewery tours to any folks you might be interested.
————————————————————————————————
El Segundo Brewing Company was created out of a passion for home brewing and with the support of family and friends. During Rob Croxall's many years at various aerospace companies, he longed for the weekend when he could do what he truly enjoyed in life: brew beer. Rob is fortunate enough to have realized his dream of opening a brewery on Main Street in his home town of El Segundo.
In early 2011, Rob attended UC Davis and earned his Professional Brewer's Certificate by completing the 2 month course on brewing science. In addition to ten years of home brewing, these technical skills enable him to brew fantastic, fault free beers. El Segundo Brewing Company focuses on true California styles and strives to become THE hop-centric brewery in Los Angeles. The beers we brew showcase Rob's love of hops and are beer that we and our friends like to drink. We hope to be a world-class addition to the emerging Los Angeles Craft brewing landscape.
Thomas Kelley, a Certified Cicerone ®, is an operating partner who oversees Sales and Marketing for the brewery. Thomas has significant experience in the craft industry, both here in California as well as Philadelphia, PA. Most recently he has been the General Manager of the esteemed Library Alehouse in Santa Monica.