LA Beer Week 2012 – Dogfish Head Ancient Ales 5 Course Dinner at Little Bear 9/24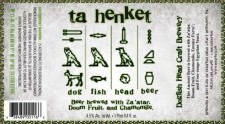 Little Bear's Dogfish Head Ancient Ales 5 Course Dinner for LA Beer Week! Monday, September 24th @7pm
Dogfish Head hand selected The Little Bear as the exclusive host of this high concept LA Beer Week Dinner. Chef Andre Guerrero (The Oinkster / Maximiliano) has created a 5-course meal to be paired with Dogfish Head's 5 Ancient Ales!
Ta Henket
Wild Mushroom Bruschetta
aged balsamic reduction, shaved parmesan
zaatar spiced toast
Midas Touch
Pan Seared Duck Breast
saffron risotto, golden raisin
chardonnay reduction
Sah'tea
Sous Vide Pork Loin
apple port marmalade, roasted garlic
fingerling potatoes
Chateau Jiahu
Beer Poached Monkfish
grilled asparagus, bacon shallot confit
lemon beurre blanc
Theobroma
Belgian Chocolate Mousse
whipped cream, candied orange zest
This is a great chance to try beers inspired by brewers who were unencumbered by purity laws, style rules and bottom lines.
More information on the beers here: www.dogfish.com/ancientales
Each ticketholder will get an Ancient Ales Goblet, a Stone Coaster and a Poster.
Tickets Available for purchase over the phone from 11am-6pm @ 213.622.8100
$75 / Limited Seating Available
Facebook Event Page: http://tinyurl.com/dogfishbear
Thanks for your support!
www.littlebearla.com
www.facebook.com/littlebearla
www.twitter.com/littlebearla
www.labeerweek.com
1855 Industrial St. Los Angeles, CA 90021