Kingsport Oktoberfest 2011 – Beer University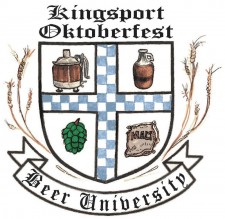 At Kingsport Oktoberfest we feel that a Craft Bier Garden isn't complete unless we provide you the opportunity to learn about all aspects of the beer. It is this 'Growing to Glass' education that brings a full appreciation of Craft Breweries. You get access to Beer University with your Craft Bier Garden Sampling Ticket, along with your commemorative tasting glass.
Beer University will provide you with unique beers you've never tasted before. That's because some of the brews are made just for Beer University.
Also, we have a Rare and Specialty Cask tasting for all the Beer Connoisseurs. These Rare and Specialty Casks will be available at different times throughout the day for you to sample during Beer University. Also, we will have infusers, where we make unique brews on site. From a Coffee Porter to a Jalapeño Lager, and everything in-between. If you love beer, you will love these unique, rare and specialty brews.
Throughout the day, we will have sessions from brewers on the unique qualities of their brewery as well as beer education sessions. We will also have sessions on the growing process including EchoView Farm, the largest hops farm in North Carolina, and the Riverbend Malt House. Some of the proposed sessions include:
RiverBend Malt House will discuss the artisan characteristics of the traditional malting process. The basic malting process has remained virtually the same for thousands of years. Many large malt houses employ a more automated technique of malting. Riverbend Malt House retains the tradition of the original three-step process: steeping, germination and drying.
Echoview Farm will discuss the unique aspects of local Hops farming. The soils and climate of Western North Carolina show great promise for the cultivation of hops. Not only does local agriculture cut down on fossil fuels; it also encourages more symbiosis between local growers and local consumers
Smoky Mountain Brewery will discuss the history of brewing and have a discussion on the production of Marzen and Oktoberfest style beers.
Wolf Hills Brewing will discuss the basic elements of brewing and how to differentiate between the different styles and types of beer.
Lazy Magnolia Brewing has teamed with the Kingsport Oktoberfest to bring you the Kingsport Oktoberfest Flaming Pecan Cask Ale. This is a one of a kind Cask Ale made only for the Kingsport Oktoberfest. Try it before it's gone.
Moccassin Bend Brewery will discuss the pros and cons of starting a nano brewery and upstarts.
Studio Brew will discuss the unique aspects of yeast and how that impacts and improves the homebrewing process along with other variables in the brewing process.
Woodruff Brewing will provide a cure for all that ales you. The Oktoberfest will infuse their Woodruff IPA with a series of delicious fruits for your tasting pleasure.
For more info visit kingsportoktoberfest.com – @KPTOktoberfest – Facebook