Introducing Central Coast Craft Beer Week
With California's Central Coast wine country also becoming an acclaimed craft beer mecca, now is the perfect moment to brew up some good times during the 1st annual Central Coast Craft Beer Week, featuring special dinners, tastings and other events hosted by a merry band of local breweries.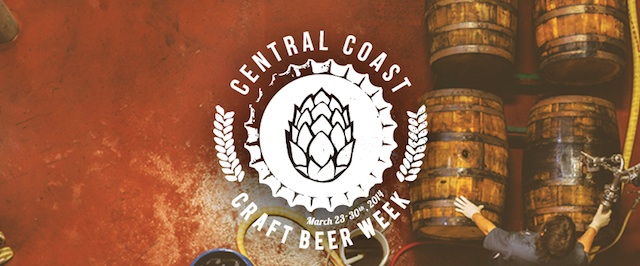 Conceived by the new Central Coast Brewers Consortium, Central Coast Craft Beer Week celebrates the unified spirit and diverse flavors of the region's craft beer community. The consortium was established in late 2013 and consists of 14 breweries and brewpubs dedicated to beer production, promotion and education.
"For the first time, Central Coast breweries are formally banding together to celebrate locally brewed craft beer," said Jamie Smith, president of the Central Coast Craft Beer Consortium, which spans San Luis Obispo, Santa Barbara and Ventura counties.
He added, "Central Coast breweries have been making a lot of noise at prestigious competitions such as the Great American Beer Festival and World Beer Cup. Central Coast Craft Beer Week is all about experiencing fresh, world-class craft beers made right here in our backyard."
The week's festivities include:
·         Cambria Brewing Company's 2nd Anniversary Party in Cambria on March 22
·         Hands-on beer blending seminar at Libertine Pub in Morro Bay on March 22
·         San Luis Obispo Brewers homebrew demo at Doc's Cellar in San Luis Obispo on March 23
·         Tap It Brewing Company release party at the Pour House in Paso Robles on March 27
·         Firestone Walker cookies & beer pairing at Barrelworks in Buellton on March 29
·         Five-Course Brewer's Dinner at Creekside Brewing Company on March 28 in San Luis Obispo
·         Central Coast Brewing's Sweet 16 anniversary party on March 29 in San Luis Obispo
For a full schedule of events, visit www.ccbrewers.org/events.
# # #
The Central Coast Brewers Consortium is a nonprofit community of brewers and enthusiasts dedicated to the production and promotion of exceptional craft beers on California's Central Coast.  Our goal is to educate the public about locally brewed beers and the tireless efforts of the people who produce them. See ccbrewers.org for more information.
Brewery members include Bang The Drum Brewery, Barrelhouse Brewing Company, Cambria Beer Company, Central Coast Brewing, Creekside Brewing Company, Einhorn Brewing Company, Figueroa Mountain Brewing Company, Firestone Walker Brewing Company, Libertine Pub, ManRock Brewing Company, Rooney's Irish Pub, SLO Brew, Tap It Brewing Company and Toro Creek Brewing Company.