FirkFest – A Festival Of Firkins Full Cask List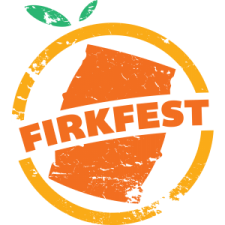 Anaheim,CA – Why a cask ale festival? A cask is simply a vessel filled with liquid meant to be served within a day or so once opened. Brewers fill the cask with beer for conditioning and then can treat it like a blank canvas; adding fresh hops, blending beers, adding tea/coffee or other creative adjuncts, or whatever.  It's a one time shot to try something new and fun.
Held at Farmers Park next to the Packing District on Anaheim BLVD and Santa Ana Blvd in downtown Anaheim, FirkFest is all about celebrating cask beer.
Unlimited cask pours from 30 California Craft Breweries (Orange County, San Diego, LA and Northern California)
Benefits Inspire Artistic Minds
Small, classy setting with limited ticket availability
Location
Anaheim Farmers Park – 400 S Anaheim Blvd., Anaheim, CA 92805
OC
Bottle Logic Brewing – "Anaheim, California", Leche Mole on Bourbon Chips
The Bruery Lemoncello Sour and Summers Eve
Anaheim Brewery – 1888 Pre-prohibition style with extra centennial
Noble Ale Works – English 101, Simcoe Showers DIPA and Man's Milk Stout
Phantom Ales – Dry Hopped Cider
Cismontane Brewing – Smokin' Santiago Scotch Ale w/ Chilies and French Oak
Cismontane Brewing – The Citizen w/Apricots
Bootleggers Brewery – TBD, TBD
Tustin Brewing Co – Bogey's Dry Irish Stout and Old Town IPA w/additions
Valiant Brewing – Moschendo Mint Coconut Lager, Last Flight American Strong w/Grand Marinier, BBL, figs, cherries, vanilla and coffee (17%!!)
Portola Coffee Labs – Natural processed Ethiopia Kochere Coffee in a used Hungarian oak Cab barrel (on Nitro)
Pizza Port SC – TBD
LA/CC
Firestone Walker – Velvet Merlin
Beachwood BBQ & Brewing – Thrillseeker IPA
Smog City – Lil Bo Pils + Amiarilla Gorilla IPA
Eagle Rock Brewing – Populist IPA
LA Ale Works – 2 casks of Karma Kolsch w/Jasmine Green and OCBeerBlog collab Chrysanthemum, Kumquat and Masala Chai tea
Haven Brewing – TBD
Golden Road – Wolf in Heat IPA, TBD
El Segundo Brewing Co – Hyperion's Vanilla Stout on Rum soaked oak
Monkish – SPA-ISH Belgian Single, SHAOLIN KICK Dubbel, and SHE-IST Tripel with a varying mix of fruit, spice and herbs in each
Bravery Brewing – Citra Ghost Rye Pale, Mocharova Milk Stout w/Coffee and Vanilla beans
Strand Brewing – White Sand IIPA w/Simcoe
Figueroa Mountain Brewing – Lizard's Mouth IIPA w/dried fruits
The Dudes Brewing – TBD
Twisted Manzanita – Oh Nose Brett IPA and Chaotic DIPA w/Galaxy
SD/IE
Belching Beaver – Beavers Milk w/Horchata + Me So Honey w/coffee and coconut
Saint Archer Brewing – Red Ale w/Amarillo
Karl Strauss – Red Trolly Irish Red w/Rose Hips
Hangar24 – Palmero w/date sugar
Ballast Point – Sculpin IPA w/Wai Iti hops
Dale Bros Brewing – TBD
Coachella Valley Brewing – Luke Rye walker Belgian Rye DIPA
Food 
Adya – Fresh Indian Flavors – Indian Street Food – Sliders
The Kroft – Gourmet Sandwiches –
K&A – Taco, Nacho cart
Wheat & Sons – Artisan butcher/pot pies,
The Iron Press – Fried chicken waffle sandwich, tater effing tots, grilled cheese
From Greg Nagel @ OCBeerBlog: While standing in a 200 person line for a cask of Noble Ale Works Naughty Sauce at a beer festival this past summer, it dawned on me. Orange County needs a proper cask ale festival. I brought the idea up with Brad Kominek of Noble and either he was really excited about the idea or had to use the bathroom really bad, I still don't know. We threw name ideas back and forth before finally landing on FirkFest. I think Brad named it, as he comes up with great names for everything.
www.firkfest.com – @firkfest – facebook – tickets