Hess Fest 4th Anniversary Street Party – July 19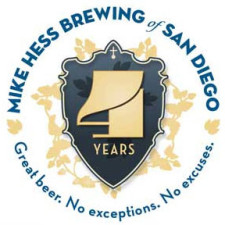 It's crazy to think but Mike Hess Brewing is celebrating our 4 year anniversary on July 19th! It really doesn't seem all that long ago that we were brewing up such small batches at our original spot off Miramar Road. From a 20 gallon system to a 50 gallon system to North Park's 30bbl brewhouse! We have a lot to be thankful for!!
What better way to celebrate then by closing down Grim Ave, taking over the parking lot, and celebrating with the people who have helped us along the way!! 20% of the proceeds go to "The Friends of Jefferson Elementary" and "It's All About the Kids".
Click Here To Purchase your Tickets and I hope to share a beer with you on the 19th!!
General Session tickets include unlimited samples from 30 different beers and food tasters (4 total) from any of the participating eateries. Full size portions will be available for purchase.
VIP Session tickets grant you all of the above but most importantly, includes access to a private Collaboration Cask Session. Participating breweries will be given the opportunity to put a twist on Hess Brewing's Grazias creating a very limited and exclusive blend. With Hess Brewing having three different casks of their own, there will be at least 9 casks to enjoy!
Collaboration Cask Session: 12:00pm-1:30pm
General Session Starts: 12:30pm / Last Call: 4:30pm / Ends: 5:00pm
Guest Breweries
AleSmith
Coronado Brewing
Green Flash Brewing
Karl Strauss
Mission Brewery
Monkey Paw
Mother Earth
Rip Current
SanTan Brewing
Societe Brewing
Stone Brewing
Guest Eateries
Coin Op
Crazee Burger
O'Brien's
Sicilian Pizza Thing
Slater's 50/50
Toronado
URBN Pizza
Waypoint
Collaboration Casks
AleSmith – Perle Hops
Coronado Brewing – Alsace Hops
Green Flash Brewing – Honey & Toasted Oak
Mike Hess Brewing – Rum & Oak
Mike Hess Brewing – "Holi Mole" Mole Ingredients
Mike Hess Brewing – "SanGrazias" Cherry & Lime
Karl Strauss – Bird Rock Coffee Ethiopian Roast Beans
Mission Brewery – Lemon & Orange Zest
Monkey Paw – Apricot & Basil
Mother Earth Brewing – Guam Boonie Peppers & Sorachi Ace Hops
Brian Trout (QUAFF) – "Muchas Grazias" Mexican Coffee
Rip Current Brewing – Orange Zest & Vanilla Beans
Stone Brewing – Cacao Nibs, Lactose Sugar and Mint
www.mikehessbrewing.com – @HessBrewing – facebook