Green Flash San Diego Beer Week Events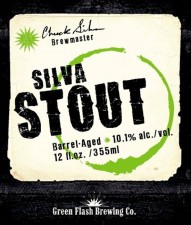 Silva Stout Release Party & Rare Beer Tasting
Tuesday, November 8th from 3:00pm-7:00pm
Join Brewmaster Chuck Silva in our beautiful new tasting room for a night of rare beer, amazing food and great company. We will be releasing the original archived batch of Silva Stout! Guests will receive a 4-pack of our Silva Stout, a commemorative glass, tastes of 4 barrel-aged beers and an amazing food pairing. For those unfamiliar, Silva Stout is our Double Stout that is aged in Heaven Hill bourbon barrels for 17 months to provide some amazing complexities. Special tastes will include: Silva Stout, Super Freak, Little Freak and Brandy Barrel-Aged Barleywine. If that wasn't enough, we collaborated with Chef Jeff Rossman from Terra American Bistro to create an amazing dish that will bridge the gap between all the beers served throughout the evening. The dish is salmon confit with micro arugula salad, featuring smoked apple caramelized ginger flan, candied orange zest, toasted hazelnuts, and truffle oil – immersed in Silva Stout reduction. We will only sell 300 tickets to this event. Get your tickets soon as this event will sell out!
We're also excited to showcase San Diego's Top Brewers, published by Chefs Press, at a discounted price. Autographs from author Bruce Glassman, Brewmaster Chuck Silva and Chef Jeff Rossman will be available. The book is a celebration of San Diego's great craft beer scene, with profiles of brewers, breweries, and the beers they make, along with more than two dozen beer-inspired recipes from some of San Diego's top chefs.
Click Here To Purchase Tickets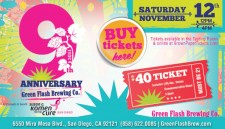 Green Flash 9th Anniversary Celebration
Saturday, November 12th from 12:00pm-4:00pm
Join us at our new Mira Mesa brewery as we celebrate 9 years of brewing history and success. The festival will feature our award-winning Green Flash beers, and will include a caravan of gourmet food trucks, games and activities, as well as several other vendors showcasing their products and services.
The event will be on Saturday, November 12, 2011 from 12-4pm, which will round out San Diego Beer Week, and all proceeds from the event will benefit the San Diego office of Susan G. Komen for the Cure. The ticket price of $40 includes 10 – 4 oz. beer tastes, a souvenir glass, and commemorative t-shirt.
Our Anniversary will be in the Green Flash parking lot at 6550 Mira Mesa Blvd. in San Diego. Festival-goers must be 21 to enter and ID is required.
Click Here To purchase tickets online, or they are available for purchase out of the tasting room.
We hope you'll come celebrate with us and support a very worthy cause!
We will also be providing a FREE SHUTTLE to and from the festival from a few select locations: North – Churchill's Pub & Grille & Lumberyard Encinitas, South – Hamilton's Tavern, Toronado, O'Brien's Pub. If you don't want to drive, check out our schedule and hop on!
www.greenflashbrew.com – Facebook – @GreenFlashBeer
For more great San Diego Beer Week events make sure to visit www.sdbw.org – Facebook – @SDBeerWeek