San Diego Beer Week '11 – Stone Brewing Event Lineup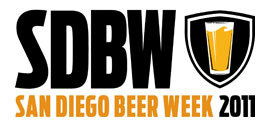 San Diego Beer Week is just days away.  It's time for you to pick the Stone Brewing events you would like to attend. Below are brief descriptions, and links to more information and or ticket sales.  Cheers!
FRIDAY, NOVEMBER 4TH | 9AM – 12PM
Stone's kick-off event for San Diego Beer Week returns for a second year with decadence galore. Amazing food, hard to find beers and live music! (Menu, Beer List, and Tickets)
SATURDAY, NOVEMBER 5TH | 11AM -11PM
Over 20 IPAs on tap all day long!
Beer & Chocolate: Double Truffles
SUNDAY, NOVEMBER 6TH | 1PM – 2:30PM
There's no such thing as too much decadence! On the menu are six tasty craft beer samples and 12 sinfully delicious chocolates. These amazing truffles will be created by local chocolatier Dallmann Fine Chocolates and Stone's own Pastry Chef Andrew Higgins.
Beer U: Intro to San Diego Craft Beer
MONDAY, NOVEMBER 7TH | 7PM – 9PM
Join Stone's beloved blabbermouth, Ken Wright, for the story behind San Diego's success. Learn about what makes SD so special as you sample the best and the brightest from San Diego's newer breweries.
Master Pairings Dinner: Stephen Beaumont vs. "Dr." Bill
TUESDAY, NOVEMBER 8TH | 6PM – 9PM
"Dr." Bill Sysak goes head to head with world-acclaimed beer writer Stephen Beaumont. Stone Brewing World Bistro & Gardens Executive Chef Alex Carballo has set the stage for the beer pairing showdown with an amazing multi-course dinner. Who will win? The diners decide!
Book Signing: San Diego's Top Brewers
WEDNESDAY, NOVEMBER 9TH | 5PM – 7PM
Bruce Glassman's San Diego's Top Brewers: Inside America's Craft Beer Capital takes an in-depth look at what makes the local beer community so special. Get the inside scoop on 18 San Diego breweries and the city's best beer bars as well as beer basics, 2 dozen beer-based recipes, and more.
Bruce, Stone co-founder Greg Koch, and brewers from Iron Fist Brewing and Mother Earth Brew Co. will be on hand to sign your book and chat about the industry!
Women Only: Celebrating Craft Beer
WEDNESDAY, NOVEMBER 9TH | 7PM – 9PM
Stone's Indoctrination Specialist, Kathryn Bouscaren, hosts a night just for the ladies. A guided beer tasting highlighting women in the beer industry, with an emphasis on San Diego. Get all your questions answered and share your experiences in a fun and private environment upstairs.
Brewmaster's Dinner: Ballast Point & Stone Brewing Co.
THURSDAY, NOVEMBER 10TH | 6PM – 9PM
Colby Chandler of Ballast Point fame joins Stone's own Mitch Steele for an epic beer dinner with a Ballast Point-inspired surf and turf theme. Check out the menu for all the tasty details.
Meet the Brewer: Firestone Walker
FRIDAY, NOVEMBER 11TH | 6PM
Rub elbows with some of the award-winning crew from Firestone Walker Brewing Co. They're visiting Stone to continue their 15th Anniversary celebration and will be bringing extra special beers with them, including their just-released barrel-aged Firestone Walker XV.
SATURDAY, NOVEMBER 12TH | 11AM -11PM
"Dr." Bill Sysak delves deep into his treasure chest for favorite representations new and old of this classic Belgian farmhouse ale. Pouring all day long at Stone's inside and outside bars.
SUNDAY, NOVEMBER 13TH | 10AM – 4PM
Stone isn't letting San Diego Beer Week end quietly! They've got something new to join the ranks of Oakquinox and Stone Sour Fest: the first annual Pour It Black festival. "Dr." Bill and his crew have collected an amazing selection of over 60 unique porters and stouts from around the world. How unique? How about beers aged in brandy or Jack Daniel's barrels or brewed with oatmeal, oak, coffee, rye, espresso, coconut, chocolate, bacon, smoke or macadamia nuts… just for a start?
Event information is subject to change. To stay up to date on all these events, please visit http://www.stonebrew.com/sdbw for more information.