GABF Event: Oskar Blues – "It's All About The Package" Party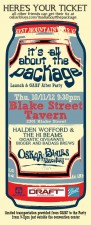 Come on down and be a part of some BIG craft beer history in the making! Thursday Night (10/11) "It's All About the Package" Party.  – Featuring CANS from the Evolution of Craft beer and a NEW PACKAGE RELEASE FROM OSKAR BLUES.
Our "It's All About the Package" Launch Party after the Thursday night Great American Beer Festival session includes larger-than-life live music by Halden Wofford & the Hi Beams, gigantic giveaways, and big, badass beers.
Limited transportation from the convention center to the party from 9-11pm, or you can hoof it for the short walk over that-a-way. Be sure to print off the flyer, get one at GABF on Thursday night, or show it on your phone to the doorman to get into the party!
It's going to be a HUGE night – be sure to bring your party pants.
Blake Street Tavern
2301 Blake Street, Denver, Colorado 80205
PS.
Beer Releases
"G'Knight Imperial Red IPA" will be released in 16oz. Cans that week…yes from now on.
The 2nd collaboration between Sun King Brewery and Oskar Blues Brewery in the Ball Alumi-tek Can, CHAKA was the first.  We ain'tt saying the name right now but it's a Hopped Up Brown Ale. Chaka Details

www.oskarblues.com – @OskarBlues – facebook