Big Boss Brewing Casktoberfest 2012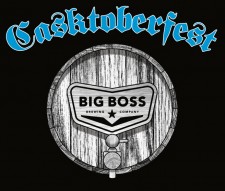 Big Boss Brewing Announces October Fourth as date for Casktoberfest Celebration to benefit and bring attention to North Carolina's Mountains to Sea Trail
Raleigh, NC – Big Boss Brewing, brewers of Bad Penny brown ale, High Roller India Pale Ale and the fall favorite Harvest Time Pumpkin Ale has chosen Thursday, October 4th to hold annual Casktoberfest event in Raleigh.
Casktoberfest is the Big Boss way of honoring two significant brewing cultures in one event: National Cask Ale Week in the United Kingdom and Oktoberfest in Munich.
With Casktoberfest you'll experience a uniquely American approach to these world traditions as we offer a variety of cask conditioned brews in a festive, beer-hall atmosphere with the best German style food some of the area's best food trucks can produce. For this year's edition of Casktoberfest we've asked our local food trucks to prepare a special menu to match the beer-hall theme.
Food will be provided by Porchetta + Cafe Prost + Baguettaboutit + Lusty Monk Mustards!
For the 2012 edition of Casktoberfest Big Boss has assembled the company's largest selection of firkins ever assembled in one place.
Featured beers being served that night include:
Night Knight – Black IPA
V for Victory – Vienna Lager
High Roller IPA – Citra wet hopped
Bourbon Barrel Aged Night Knight Black IPA
Bourbon Barrel Aged Big Operator
Belgian Harvest Time – Pumpkin Ale
Blanco Diablo – Wit with Ginger Root
Chipotle Hell's Belle Belgian Blond
Smoked Bad Penny – Brown Ale
Angry Angel – Kolsch Citra wet hopped
Hell's Bizz-Ness – Wild funk aged with Cherries
Bad Penny – Brown Ale with M&Ms
Bourbon Barrel Aged Harvest Time – Pumpkin Ale
Bockscar – bock
Date: Thursday October 4th 2012 beginning at 5pm
Location: Big Boss Brewing Company – 1249 Wicker Drive, Raleigh NC 27604
About Big Boss Brewing Co
Big Boss was formed as collaboration between Geoff Lamb, a UNC graduate, who returned to North Carolina in 2006 to join forces with Brewmaster, Brad Wynn. Big Boss produces a lineup of year round beers like Bad Penny Brown ale, High Roller India Pale Ale and the ever popular seasonal Harvest Time Pumpkin ale.
www.casktoberfest.com – www.bigbossbrewing.com – @bigbossbeer – facebook
About The Friends Of The Mountains To Sea Trail
FMST is the growing group of citizens and volunteers who support North Carolina's longest marked footpath. The trail passes through 37 counties and is nearly 1,000 mile long. Volunteers work all over North Carolina, building and maintaining the trail, encouraging communities to create new sections of trail, and helping people hike it.